APLEX Presents Innovative Smart Solutions in Embedded World 2023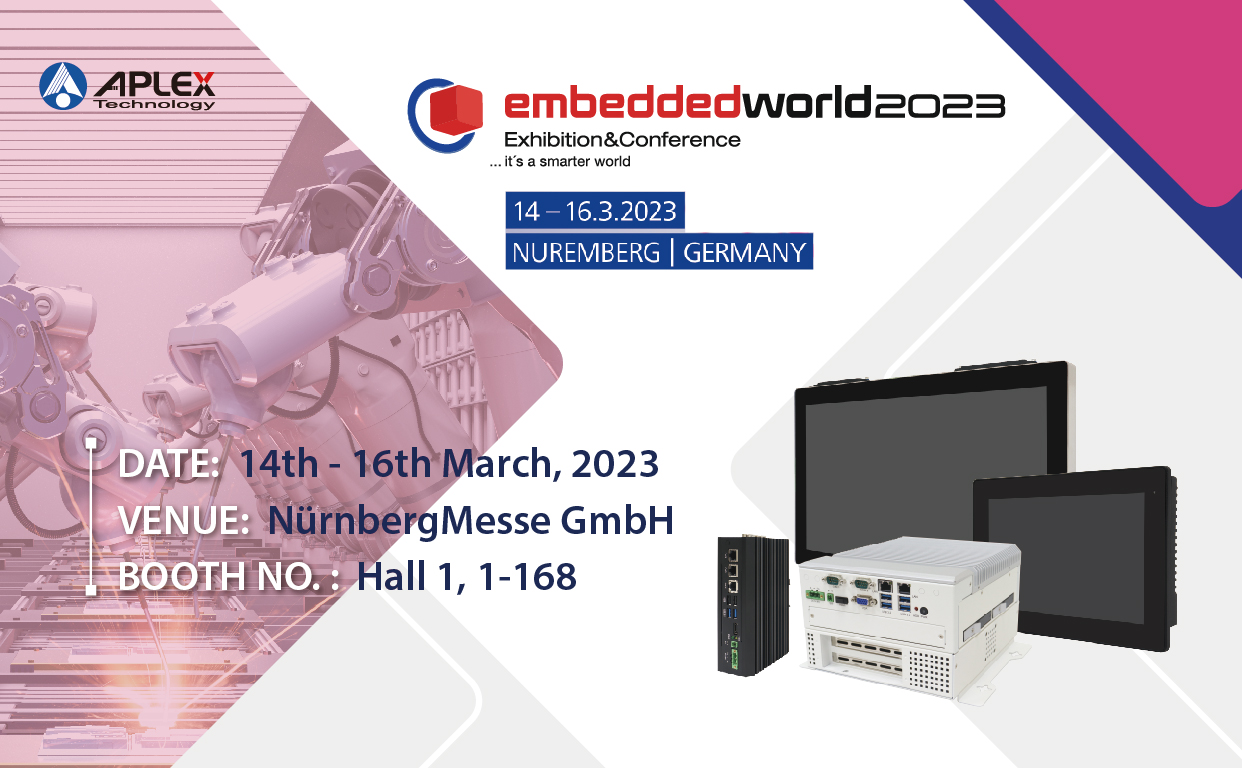 [Taipei, Taiwan-March, 2023]-APLEX Technology Inc., a global industrial computer products solutions provider is thrilled to announce that we are joining Embedded World 2023 in Nuremberg, Germany. The tradeshow is one of the largest exhibition for international embedded community to present embedded solutions. This time, we are showcasing our robust embedded systems and solutions for smart medical, food automation, smart manufacturing, transportation as well as marine applications. We cordially welcome you to visit our booth.



Panel PC Solutions to Improve your Smart Factory in any Environments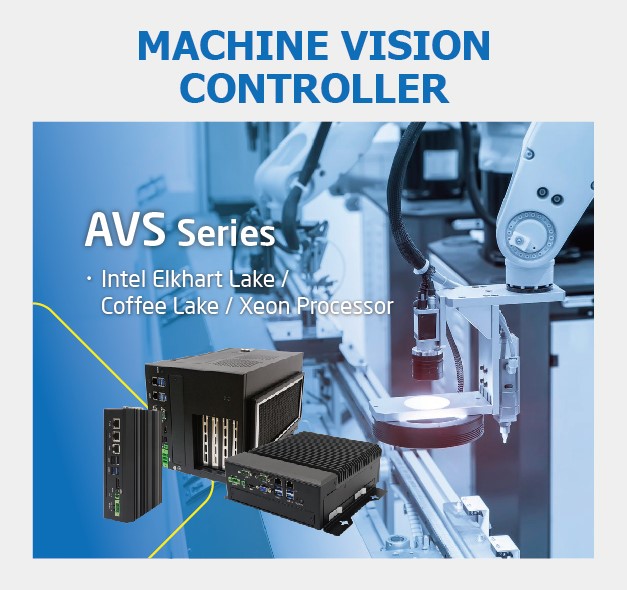 These days, smart manufacturing is still essential for industries as there are more and more innovative facilities and AI devices to improve factory efficiency and the procedure. APLEX brings our comprehensive solutions to help! In Embedded World, we showcase the entry to high–end machine vision systems to fit for AI defect detection, fault inspection and more. For the new generation HMI solutions, AUHMI is powered by 11th Gen. Intel Core i3/i5 processor and supports various I/O expansion cards, backup battery, modular design for easy maintain, wide operating temperature, 10.1" / 15.6" / 21.5" PCT as well as rugged structure.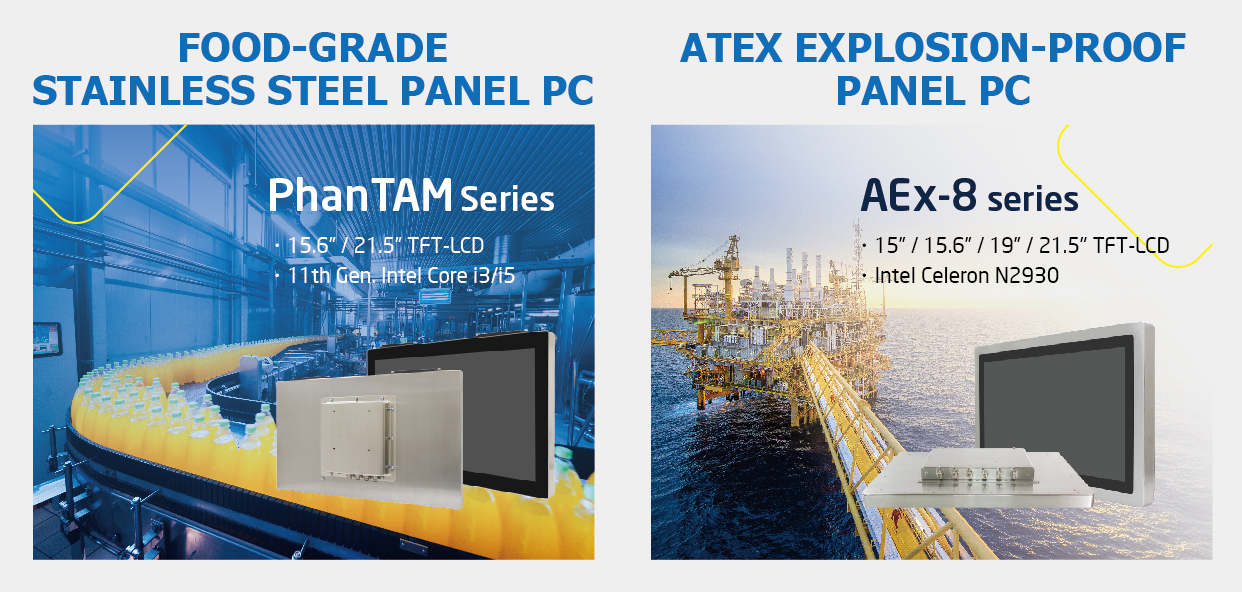 Moreover, for harsh environment and hazardous environment. Food industry requires massive cleaning to maintain their manufacture hygiene, so that total IP69K food-grade stainless steel panel PC and display is definitely a need. The PhanTAM series is the newly design panel PC with 11th Gen. Intel Core i platform and multiple mounting solution. It is perfect for food automation. In addition, as for explosion-proof application such as, oil, gas, flourmills, mines and chemical industries, the ATEX Class 1 Division 2/ Class 2 Division 2/ IECEx Zone 2, Zone 22 certified products can operate under the condition of gas, vapor and other chemical elements exposure. APLEX provides rugged and reliable ATEX certified panel PC, box PC and display solutions at our booth for you to explore.
Transportation & Marine Solution Guarantee Smooth Operation in Extreme Environment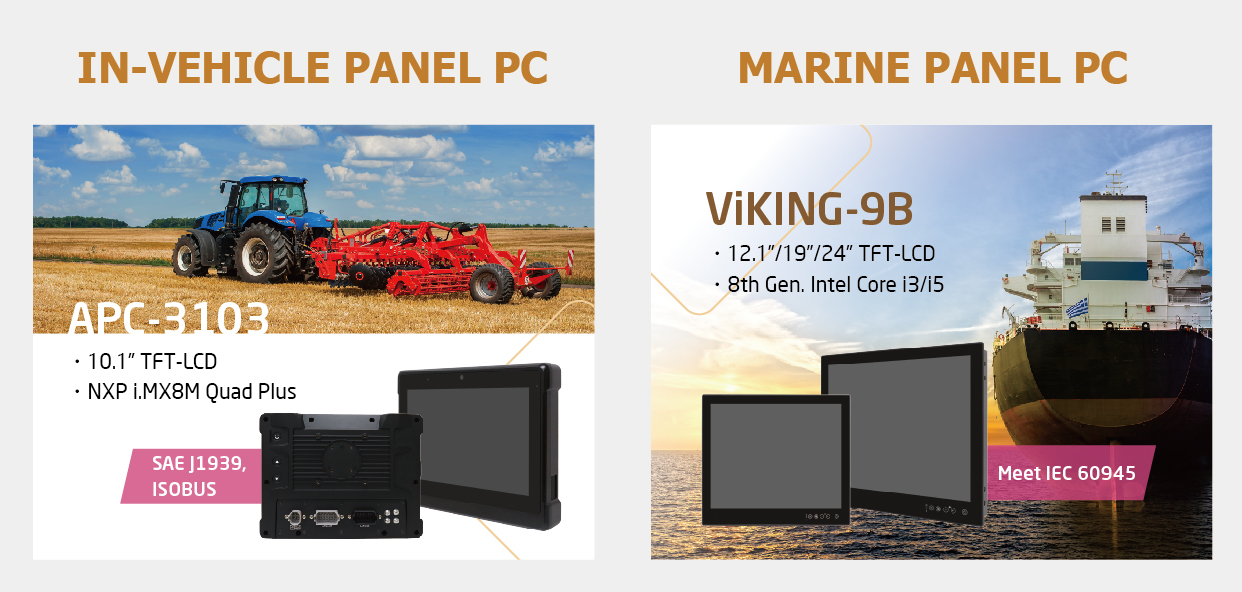 APLEX new smart transportation product line for in-vehicle and marine applications are releasing in Embedded World 2023. In-vehicle panel PCs with SAE J1939 standard, ISOBUS protocol and complete IP65 waterproof features are designed for warehouse forklift, heavy machineries and agriculture machineries for mining industry. Moreover, the new 12.1"/19"/24" marine panel PC series, ViKING is also ready for maritime industry by designing under DNV standards and meeting IEC 60945 marine certification. Nevertheless, it also features isolation I/O, marine dimming function and anti-corrosion by passing salt spray testing for navigation applications.



The Newly Launched Smart Medical Solution - EIRA Series
AI technology is now playing an important role in every industries. In medical healthcare, AI and machine learning help reduce misjudgments and enhance time efficiency. Therefore, we are presenting our new focused solution smart medical solution – EIRA series. It contains 21.5" medical-grade panel PC with 11th Gen. Intel Core i platform, 12.1" portable medical tablet for ultrasound scanning and GPU-based AI image analysis box PC. Featuring high performance, anti-bacteria hospital white plastic housing (panel PC & tablet) and equipping with ISO 13485 and EN-60601 certification, make this series most suitable for versatile medical applications.
Smart Industry Solutions:
Smart Medical Solution

(EIRA series)

Food Automation Solution (PhanTAN series)
Smart Manufacturing Solution (

AUHMI

series/ ARCHMI series/ ARMPAC series/ ViTAM series/ AEx series/ AVS series)

Transportation & Marine Solution (In-vehicle series/ ViKING series)



APLEX prepares our overall innovative solutions for you to explore, we believe there are definitely the one that fits your demand. If you need more information, or a face-to face discussion, please contact our sales team: sales@aplex.com. Come and visit us! We look forward to meeting you!

About APLEX
APLEX Technology Inc. is one of the leading brands in industrial computer products. The company is dedicated to satisfying customer's needs by offering comprehensive solutions and applications, including industrial panel PCs, Human-Machine Interfaces (HMI), industrial displays, and Embedded Box PCs. In addition to a full line of standard products, APLEX also offers customized or OEM/ODM project services. Applications range from factory automation, transportation, retail, hospitality, environmental monitoring, warehousing, medical, to health care. APLEX is publicly traded on TPEX TAIPEI Exchange (Code: 6570).More information is available at www.aplex.com and on LinkedIn,YouTube

Media Contact
Worldwide Office Contact: sales@aplex.com+886-2-82262881
US Office Contact: sales@aplextec.com+1 (669) 999 - 2500
Worldwide PR Contact: wennielo@aplex.com+886-2-82262881-2515