A Game Changer of Smart Manufacturing, the AVS-200 Machine Vision Controller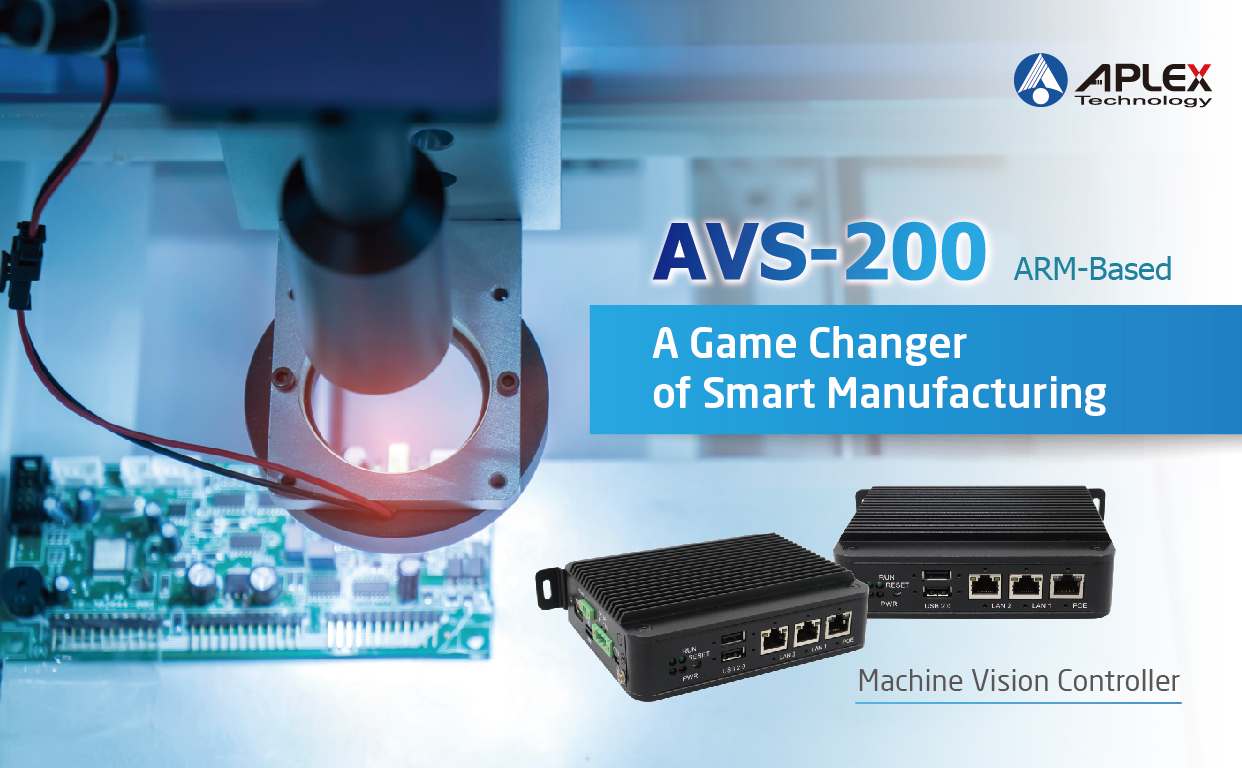 [Taipei, Taiwan-February, 2023]-APLEX Technology Inc., a global industrial computer products solutions provider is excited to unveil our new ARM-based machine vision controller, the AVS-200!
AVS-200 is an aluminum heatsink and steel chassis compact controller, which is powered by Amlogic A311D, Quad-core Cortex-A73 and Dual-core Cortex-A53 processor. It comes in 2GB DDR3 system memory, onboard 32GB eMMC storage and 1 x SD card slot. Besides, it features 2 x USB ports, 1 x USB OTG, 1 x COM, 1 x HDMI, 2 x LAN, 1 x PoE, 4 x digital I/O, Trigger I/O, 2 x lighting control, 1 x micro SIM slot and supporting 9~36V DC power input. AVS-200 provides excellent computing performance and due to its rich I/O interfaces, it is also easy to integrate with camera devices.
The advantages and applications of AVS-200
AVS-200 is capable to demonstrate in multiple applications based on machine vision, machine learning and data analysis due to equipping with Amlogic A311D CPU, ARM Mali-G52 MP6 GPU and 5.0 TOPS NPU. Besides, combining with APLEX SDK, it supports location awareness, motion control, camera trigger mode and lighting control. Therefore, AVS-200 is capable to work for defect inspection, object detection, barcode scanning, positioning, sorting and object tracking. However, machine vision application is not the only solution AVS-200 can provide, it can control the robotic arm to do fine motor skills; automated guided vehicle (AGV) and autonomous mobile robot (AMR) to systematic manage the warehouse as well.

Easy to develop your own machine vision application program
APLEX offers full software development kit (SDK) service to supply complete software and hardware support. Customers may take the advantage of our SDK to develop their own machine vision program. It can highly reduce software development time, and enhance the compatibility of integration. With our thorough technical support and service, APLEX makes development much easier.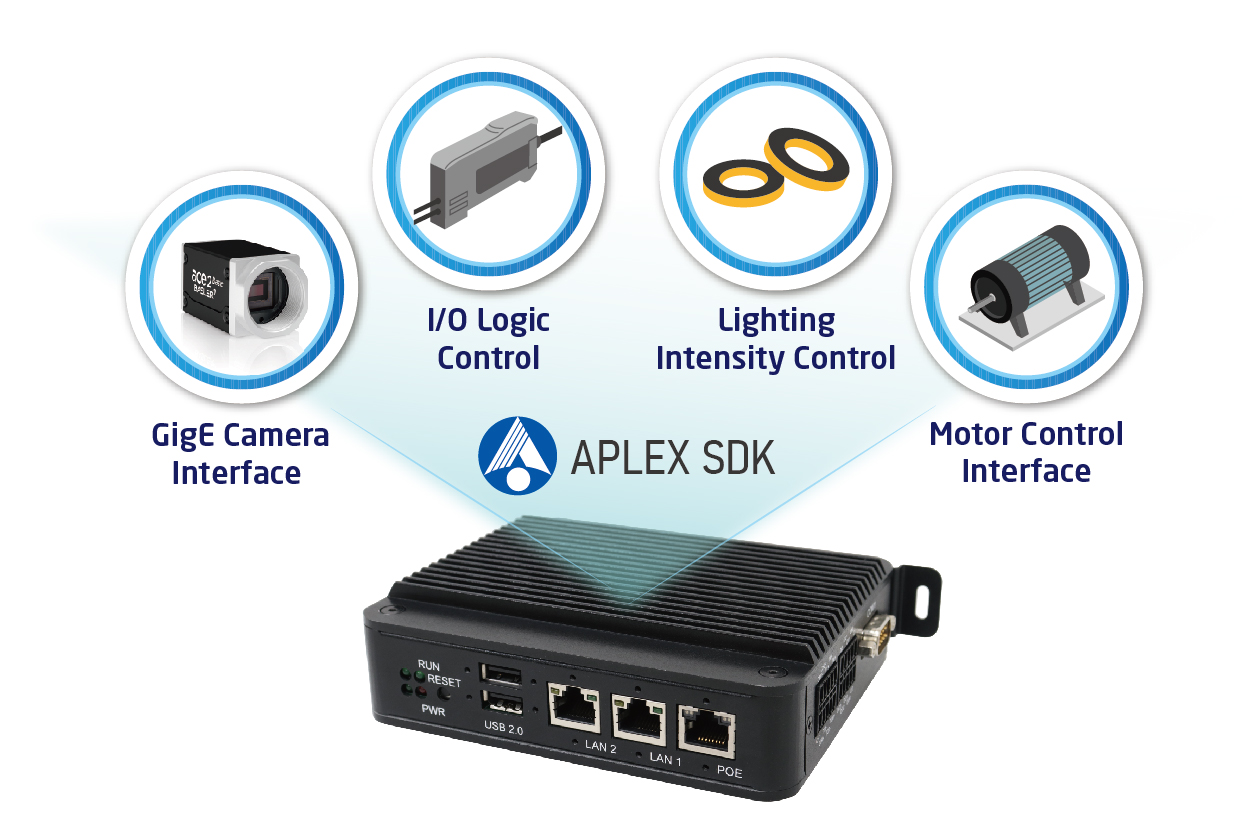 The character of AVS-200 plays in automation factory
AVS-200 provides ARM Mali-G52 MP6 GPU to support precise and accurate results by capturing images in high speed. Thus, it can speed up the production line while producing high quality products. To sum up, it is able to increase the efficiency and productivity for factory automation application, and on the other hand, it can decrease the overall production time.

Moreover, APLEX supports a complete board support package for AVS-200 to work with the Linux Ubuntu operating system in order to ensure a continuously smooth and stable operation. According to all those great features and functions, AVS-200 would make a massive difference for your smart factory.
Products Guide:

For further product information, please contact our sales team: sales@aplex.com
About APLEX
APLEX Technology Inc. is one of the leading brands in industrial computer products. The company is dedicated to satisfying customer's needs by offering comprehensive solutions and applications, including industrial panel PCs, Human-Machine Interfaces (HMI), industrial displays, and Embedded Box PCs. In addition to a full line of standard products, APLEX also offers customized or OEM/ODM project services. Applications range from factory automation, transportation, retail, hospitality, environmental monitoring, warehousing, medical, to health care. APLEX is publicly traded on TPEX TAIPEI Exchange (Code: 6570).More information is available at www.aplex.com and on LinkedIn,YouTube

Media Contact
Worldwide Office Contact: sales@aplex.com+886-2-82262881
US Office Contact: sales@aplextec.com+1 (669) 999 - 2500
Worldwide PR Contact: wennielo@aplex.com+886-2-82262881-2515