APLEX AVS Series is now going to change your Quality Inspection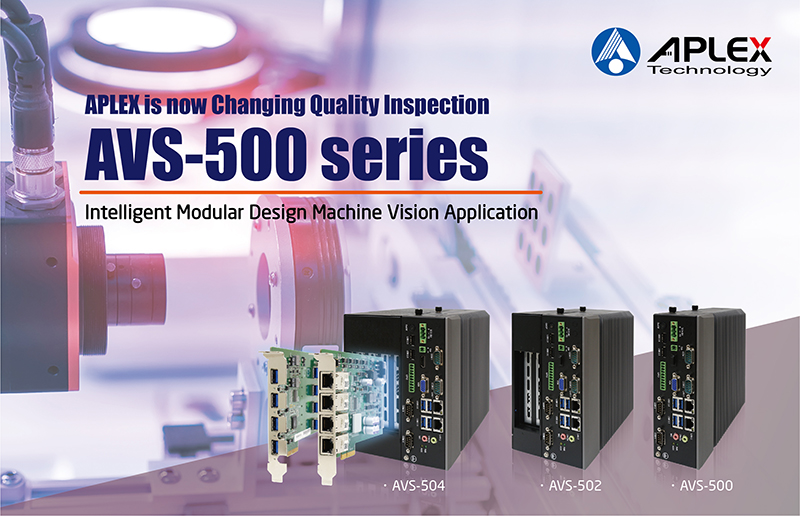 Taipei, Taiwan-June 28th , 2019-APLEX Technology Inc., a global Industrial Computer leader, today announces its AVS-500 Series, AVS for Aplex Vision System, is a modular designed system specifically for the Machine Vision application market segment.

Now a day, as Machine Vision system plays a more and more vital role in modern production process, products like AVS-500 Series actually do help to boost accuracy, productivity, quality, and flexibility to meet with today's most manufacturing needs. APLEX tries the best to provide more features for its Vision-specific products, the AVS-500 Series. It offers expansion for cutting-edge graphic card support, various camera support, and lighting control for enhanced image processing. It helps to build-up customers' intelligent machine vision systems for better quality and faster production, improving the manufacturing efficiency. It solves the complex Industrial problems reliably and consistently.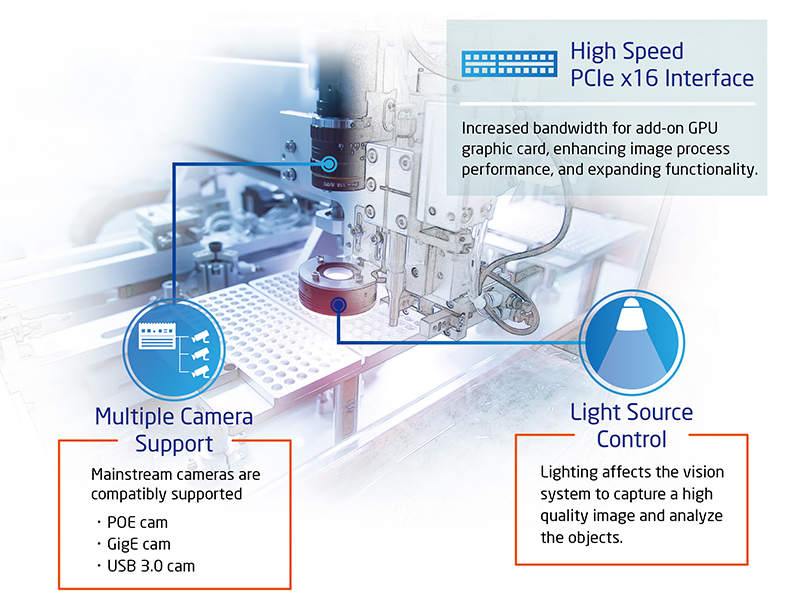 Improve Quality and Inspection Processing Control
System performance plus reliability are critical factors to Vision-based systems for quick and accurate analyze to the objects inspected for defect. AVS-500 Series are powered by 7th Gen. Intel processors, and its high-speed PCIe expansion with PCIe x16 supports the highest degree of throughput, increasing the bandwidth of GPU card data access and thus enhancing image process performance.
To improve the quality of modern manufacturing inspection process, AVS-500 Series is capable of connecting different types of cameras (POE/GigE/USB 3.0) and support of light source control to capture any high-quality images on objects for examination.AVS-500 Series is built from Industrial-grade components with long term supply/support granted. With high quality and low RMA, AVS product is the best cost-effective kits to your Machine Vision Automation solution.

Address to Wide Range of Application
APLEX AVS-500 Series is designed to satisfy most of the needs related to Machine Vision applications such as Automation Control, 2D/3D Measurement, Surface Inspection, PCBA Inspection, Robotics Arm Guiding, Textile Auto-inspection, Label/Barcode Scanning, and all kind of AOI applications.

For availability and further product information, please contact our global sales team at sales@aplex.com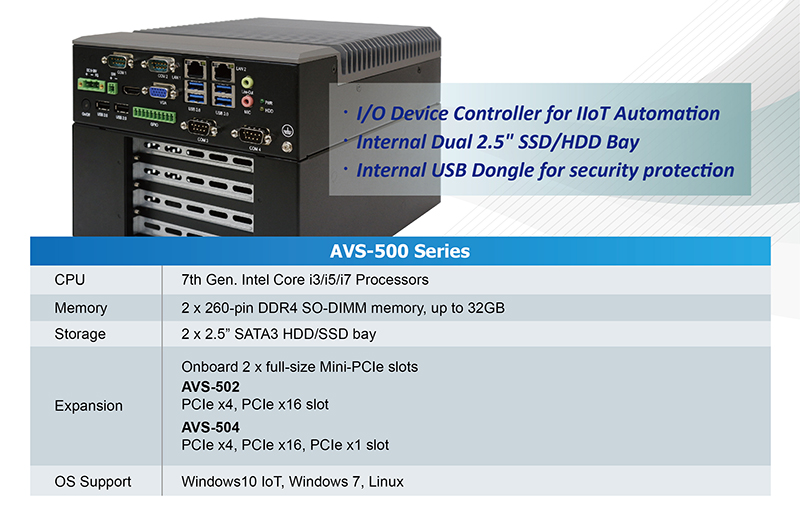 About APLEX
APLEX Technology Inc. is one of the leading brands in industrial computer products. The company is dedicated to satisfying customer's needs by offering comprehensive solutions and applications, including industrial panel PCs, Human-Machine Interfaces (HMI), industrial displays, and Embedded Box PCs. In addition to a full line of standard products, APLEX also offers customized or OEM/ODM project services. Applications range from factory automation, transportation, retail, hospitality, environmental monitoring, warehousing, medical, to health care. APLEX is publicly traded on TPEX TAIPEI Exchange (Code: 6570).More information is available at www.aplex.com and on LinkedIn, YouTube

Media Contact
Worldwide Office Contact: sales@aplex.com +886-2-82262881
US Office Contact: sales@aplextec.com +1 (669) 999 - 2500
Worldwide PR Contact: winnietsai@aplex.com.tw +886-2-82262881-2515

All brands and product names are trademarks of their respective owners.