ARCDIS Series - APLEX Robust Aluminum Industrial Display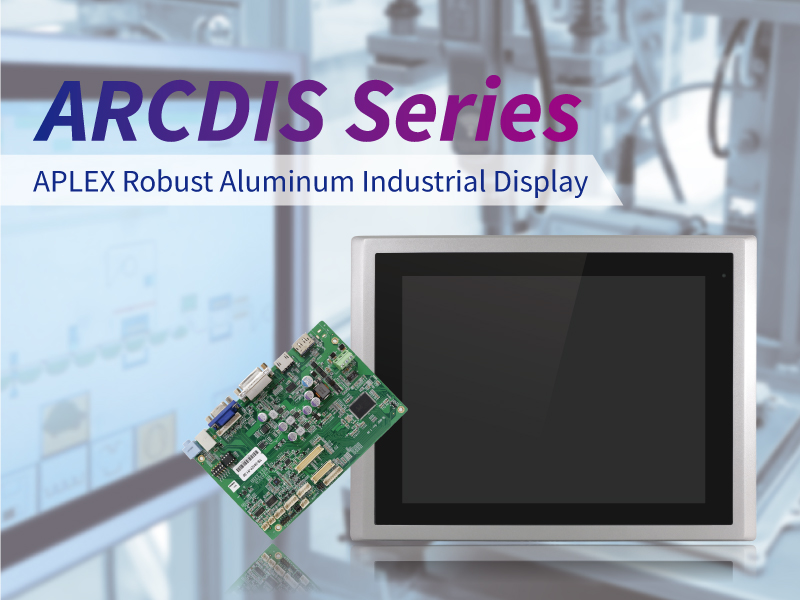 Taipei, Taiwan-June 21st, 2019-APLEX Technology Inc., a global industrial computer products solutions provider, today is pleased to highlight the latest APLEX's display, ARCDIS series, provides a wide range of reliable displays from 7" to 23.8", especially for industrial monitoring. Design with robust aluminum die-casting with 100% flat front panel while coming in sleek housing. APLEX is making high-specification industrial display solution appealing to large numbers of IoT application globally.

APLEX industrial display system comes with two self-developed AD boards, with TB-6802 AD board-operated display processing engine, it brings the different I/O interface for the specific requirement. Support quadruple displays maximum including VGA/ DVI-D / DP / HDMI input interface, giving the complete interface for easy automation system integration.

ARCDIS series industrial display system comes with various advanced features; it is designed with aluminum die-casting that improved impact resistance and durability; support IP66/IP69K moisture and dust resistance and the perfect thermal flow dissipation makes ARCDIS series operate well even in the wide temperature range environment (-20~60°C). The flat front panel supports resistive and projected capacitive touch screen as well anti-reflection screen (non-touch version). Additionally, with LCD-based monitor, ARCDIS series improves contrast ratio, higher display brightness, and low power consumption.

ARCDIS series is ready with high quality, durability, flexibility and maximum compatibility which is likely to pave the way for the industrial application that facilitates the business transformation towards IIoT. For further product information, please contact our sales team: sales@aplex.com

ARCDIS Highlights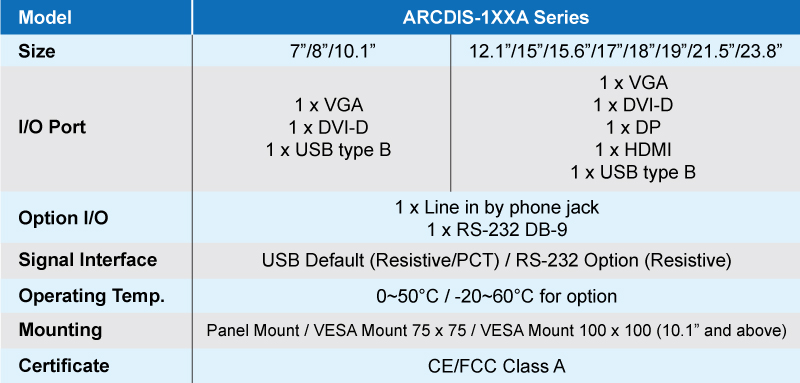 About APLEX
APLEX Technology Inc. is one of the leading brands in industrial computer products. The company is dedicated to satisfying customer's needs by offering comprehensive solutions and applications, including industrial panel PCs, Human-Machine Interfaces (HMI), industrial displays, and Embedded Box PCs. In addition to a full line of standard products, APLEX also offers customized or OEM/ODM project services. Applications range from factory automation, transportation, retail, hospitality, environmental monitoring, warehousing, medical, to health care. APLEX is publicly traded on TPEX TAIPEI Exchange (Code: 6570).More information is available at www.aplex.com and on LinkedIn, YouTube

Media Contact
Worldwide Office Contact: sales@aplex.com +886-2-82262881
US Office Contact: sales@aplextec.com +1 (669) 999 - 2500
Worldwide PR Contact: winnietsai@aplex.com.tw +886-2-82262881-2515

All brands and product names are trademarks of their respective owners.