APLEX Showcases Overall Innovative Intelligent Industrial Solution at SPS 2023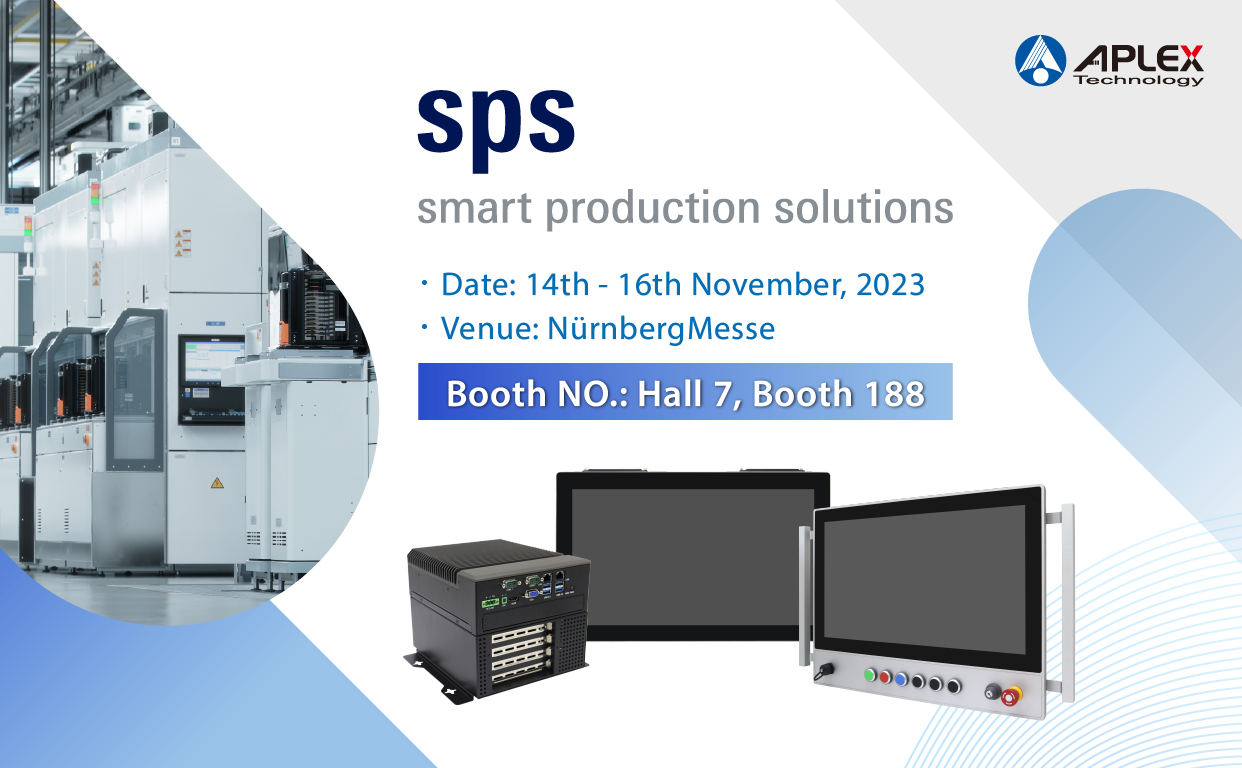 [Taipei, Taiwan-November, 2023]-APLEX Technology Inc., a global industrial computer products solutions provider is excited to announce that we are joining SPS 2023 in NürnbergMesse, Germany. SPS is the leading exhibition for smart electric automation and data management in Europe. This year, we are presenting comprehensive solutions about smart applications. We have prepared rugged and durable panel PC, HMI, box PC, display and tablet for various application fields as follows:
APLEX New Solutions of Intelligent Automation
Intelligent automation is now a trend for many industries. Data digitization is the most common but efficient method to improve efficiency. From control room to peripheral devices, APLEX's products can be well used in all kinds of solutions.
In SPS, we are showcasing our new solutions, the machine tool solution and AI security surveillance solution. The new button integrated panel PC, APO 921 is powered by Tiger Lake platform and is perfect for emergency situations. ART 610 AI system tablet has passed MIL STD 810H testing and IP65 rated, which is suitable to execute security monitoring, metal detection and identity management in semi outdoor.
Nevertheless, AIOT solutions are also coming with innovative new series. We are not bring machine vision only, but also the new SiER series. It supports numerous applications, such as edge device, switch, smart gateway, web HMI and AI sever.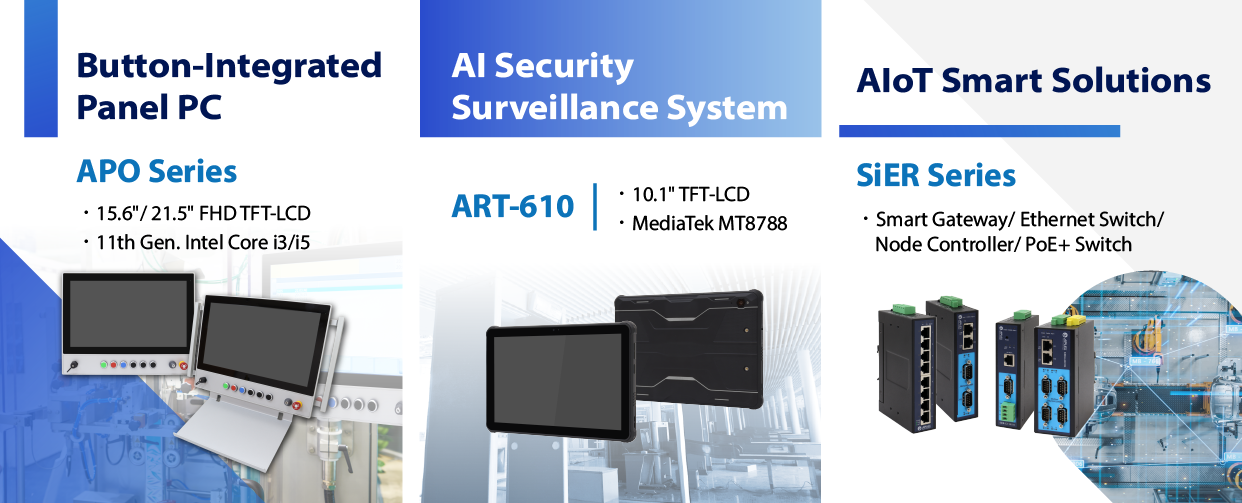 Flagship Products for Smart Manufacturing
In smart factory solution, APLEX brings our new generation flagship products of HMI and panel PC to SPS. The AUHMI series for smart manufacturing and the stainless steel food grade panel PC PhanTAM series. The former is equipped with various I/O expansion cards, modular design and back up battery to face diverse factory requirements; the latter features total IP69K with hygienic bolts to resist daily high pressure cleaning routine and hygienic standards. Both series are coming with Intel and Arm processors to meet your need.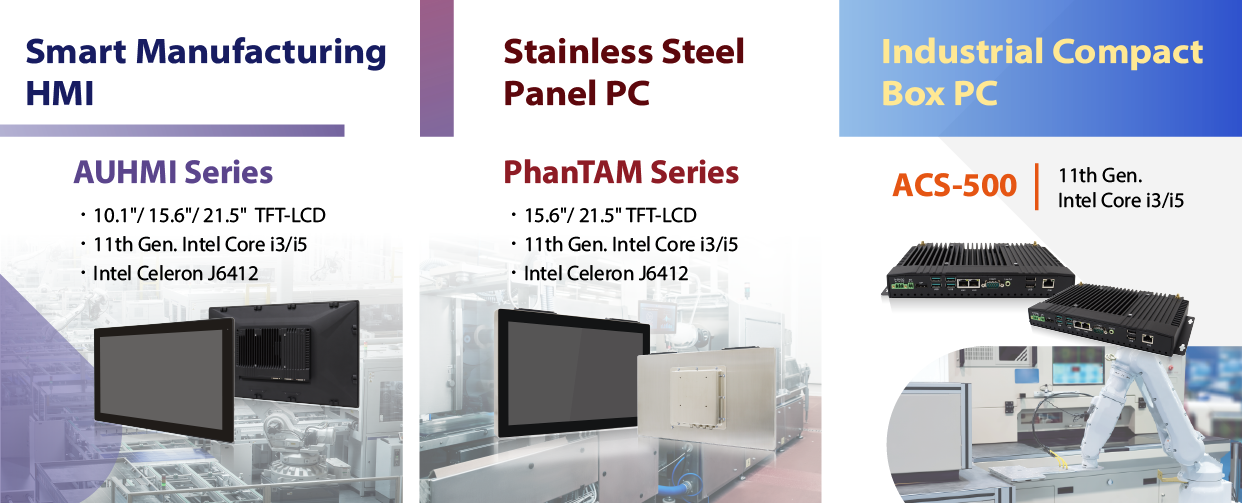 However, box PC plays an important role of manufacturing as well. Therefore, we have prepared our brand new compact embedded box PC ACS 500 for smart manufacturing solution. It is powered by 11th Gen. Intel Core i3/i5 processor and is perfect to execute real time data collection, remote monitoring and control.
Special Certificated Solutions for Hazardous Environment
APLEX provides numerous hazardous solutions to secure your working safety. The ViKING 921CP which comes in dimming function and IP66 rated front bezel is the marine panel PC. It has meet IEC 60945 marine certification and is designed under DNV standards. For in vehicle solution, AVA 610AP comes with ISOBUS connectors. It features SAE J1939 standard, complete IP65 rated and is constructed by rugged and lightweight engineering plastic. Moreover, AEx series includes both panel PC and box PC. It acquire ATEX Class 1 Division 2/ Class 2 Division 2/ IECEx Zone 2 and Zone 22 explosion proof standards for oil and gas industry.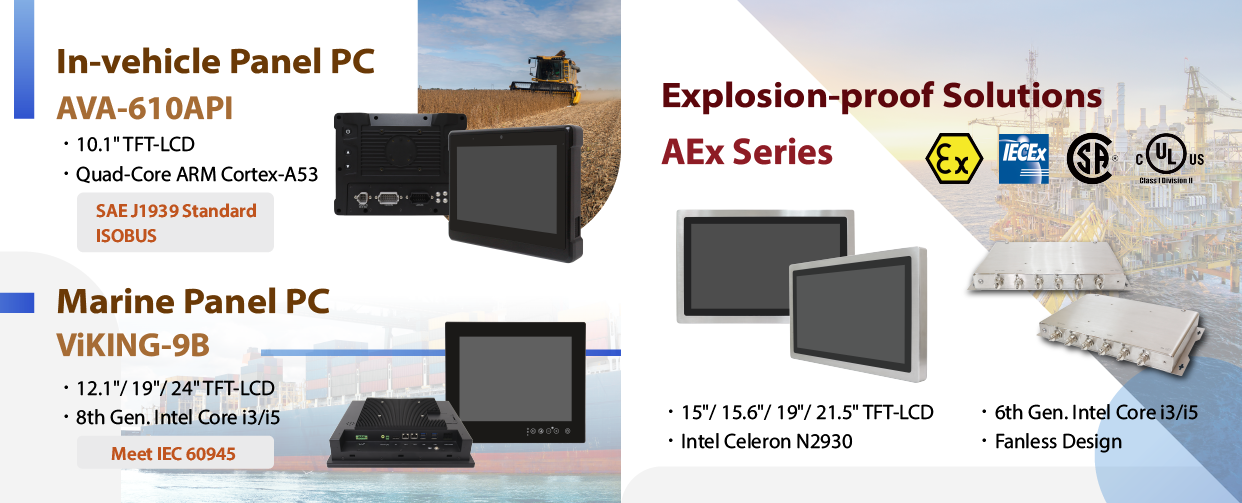 Smart Medical Solution with Medical Standards
Portable devices is crucial in medical places nowadays. APLEX presents high performance Tiger Lake platform products, the 21.5" medical grade panel PC with two batteries for medical cart usage and 12.1" portable medical tablet for ultrasound scanning. Both products are equipped with anti bacterial housing and front bezel IP65 rated. Above all, it have both passed ISO 13485 and EN 60601 certification.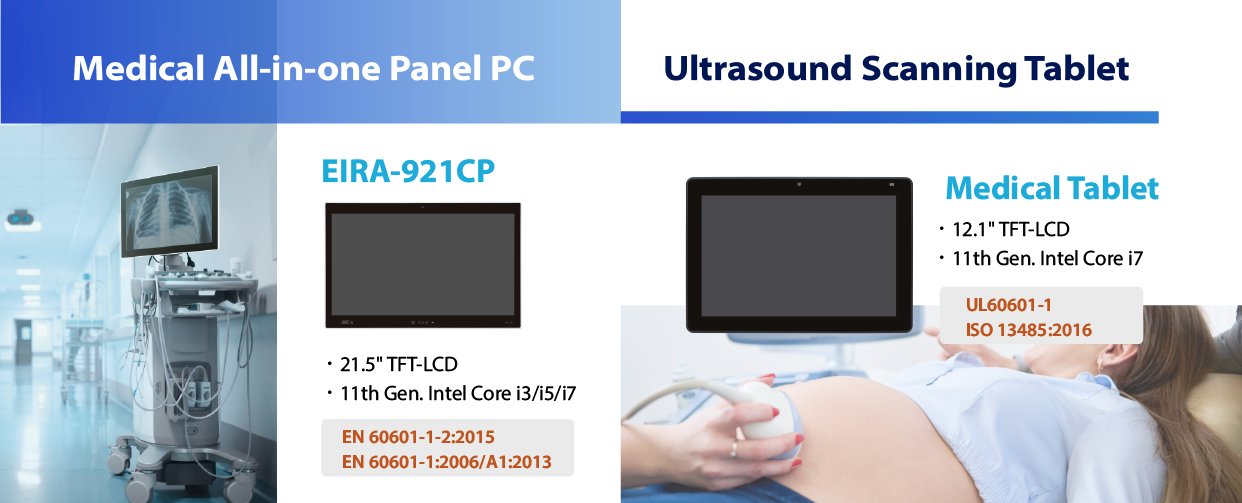 Comprehensive Smart Industrial Solutions:
‧Smart Machine Tool Solution (APO series/ ARMPAC series)

‧Smart Medical Solution (EIRA series)

‧AIOT Solution (SiER series/ AVS series)

‧Smart Transportation Solution (AVA series/ ViKING series/ ART series)

‧ATEX Solution (AEx series)

‧Smart Manufacturing Solution (AUHMI series/ ARCHMI series/ ASC series)

‧Stainless Steel Solution (PhanTAM series/ ViTAM series/ FABS series)
Among overall solutions we are bringing, we believe there are definitely the one that fits your need. Please contact our sales team: sales@aplex.com, if you need more information or a face to face discussion. Come and visit us! We are looking forward to meeting you!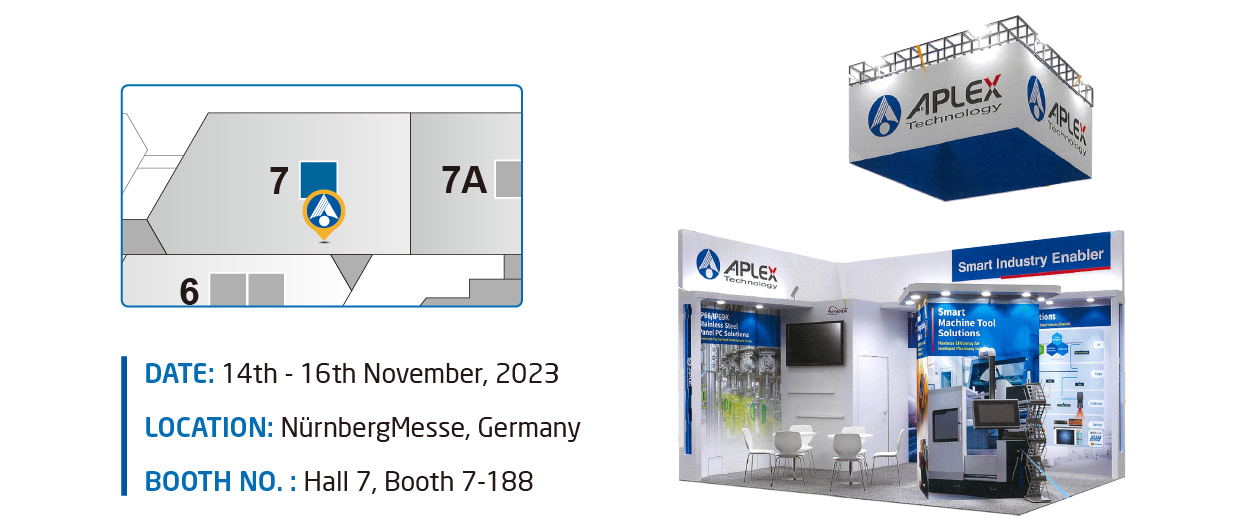 About APLEX
APLEX Technology Inc. is one of the leading brands in industrial computer products. The company is dedicated to satisfying customer's needs by offering comprehensive solutions and applications, including industrial panel PCs, Human-Machine Interfaces (HMI), industrial displays, and Embedded Box PCs. In addition to a full line of standard products, APLEX also offers customized or OEM/ODM project services. Applications range from factory automation, transportation, retail, hospitality, environmental monitoring, warehousing, medical, to health care. APLEX is publicly traded on TPEX TAIPEI Exchange (Code: 6570).More information is available at www.aplex.com and on LinkedIn,YouTube

Media Contact
Worldwide Office Contact: sales@aplex.com+886-2-82262881
US Office Contact: sales@aplextec.com+1 (669) 999 - 2500
Worldwide PR Contact: wennielo@aplex.com+886-2-82262881-2515