AUHMI, APLEX HMI Series Benefits the Smart Factory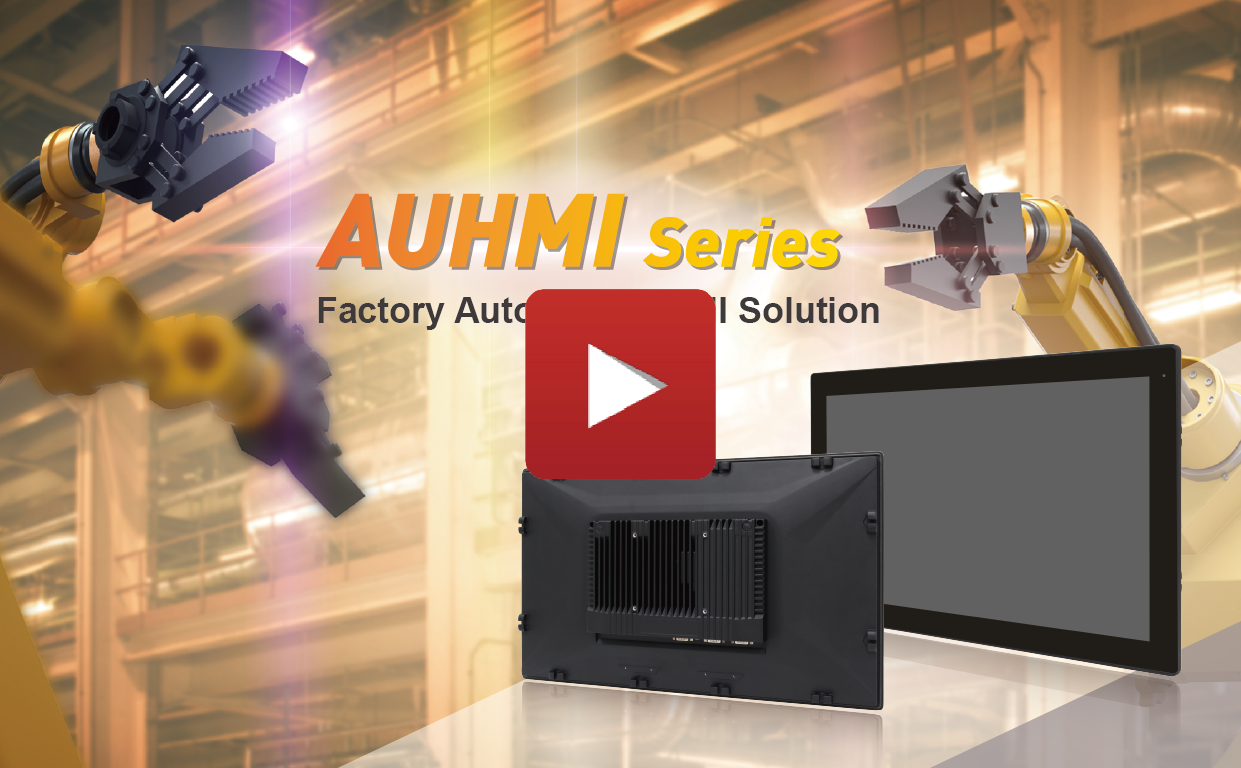 [Taipei, Taiwan-November, 2023]-APLEX Technology Inc., a global industrial computer products solutions provider, is excited to announce our fan-less factory automation solution - AUHMI. This series includes HMI (AUHMI -9C) and display (AUHMI -1A). It has the ranging from 10.1" to 21.5" TFT-LCD with IP66 certified front bezel. It is powered by Intel Tiger Lake 11th generation Core i3 and i5, which provides high performance and fast graphic processing ability. It supports sunlight readable solution for bright sunlight working environment. Including high brightness, AG/AR coating (for option), optical bonding and auto-dimming.
The outstanding outlook and user-friendly design
AUHMI not only has great computing performance but also has a completely new modern, stylish and rugged ID design. It has a full-range panel and an extremely narrow bezel that is constructed of aluminum. AUHMI provides special fasteners along with rapid positioning. Besides, due to the reason that there are no fix-holes on the panel frame, it can prevent dust from getting into interior.
Moreover, AUHMI also supports modular design. The computing system can easily remove or install with other display panel and the key point is that it only needs two screws to assemble. Thus, when it comes to repair, it is convenient and cost-effective.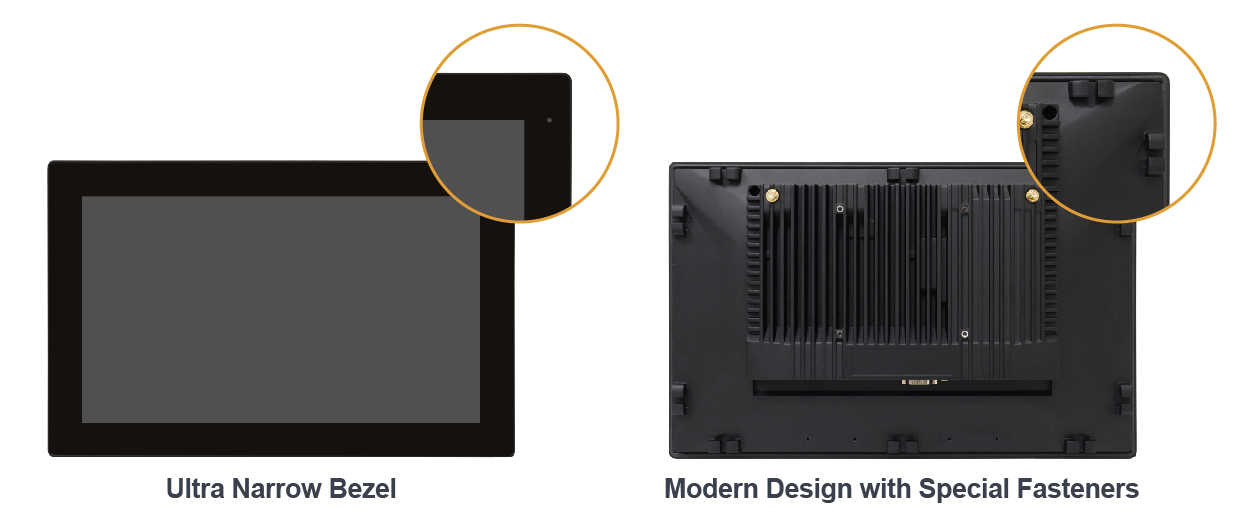 Rich expansion I/O and diversity of communications
AUHMI features with various I/O interfaces, AUHMI -1A series includes 1 x VGA, 1 x HDMI, 1 x DP Port and OSD Control. AUHMI -9C series includes 4 x USB 3.0, 1 x 1GbE LAN, 1 x 2.5GbE LAN, 1 x COM and 1 x DP/HDMI Port. Moreover, the panel PC also supports expansion cards TB-528 series for diversity requirements. For example, Mini-PCIe, COM, LAN, CAN BUS, Digital I/O, POE and USB ports. However, in order to protect the I/O ports, APLEX offers optional I/O cable cover to prevent dust and dirt accumulation. At the same time, it can manage all the cables and make the environment neater and cleaner.

Nevertheless, AUHMI has support multiple internet connectivity, such as Wi-Fi 6, Bluetooth, LTE, 5G and Giga LAN. Wi-Fi 6 highly improves the overall performance and 5G speeds up the transfer speed. Therefore, AUHMI is the best choice to elevate the efficiency and is especially suitable for smart manufacturing, factory automation, control and communication, SCADA and robotic applications, process control and so on.

Through AUHMI's rugged and user-friendly design, it is flexible, convenient, cost-effective and easy to assemble. It can meet all of the customers' demands and can place in any factory automation applications. AUHMI will be the best solution for your smart factory!
Products Guide: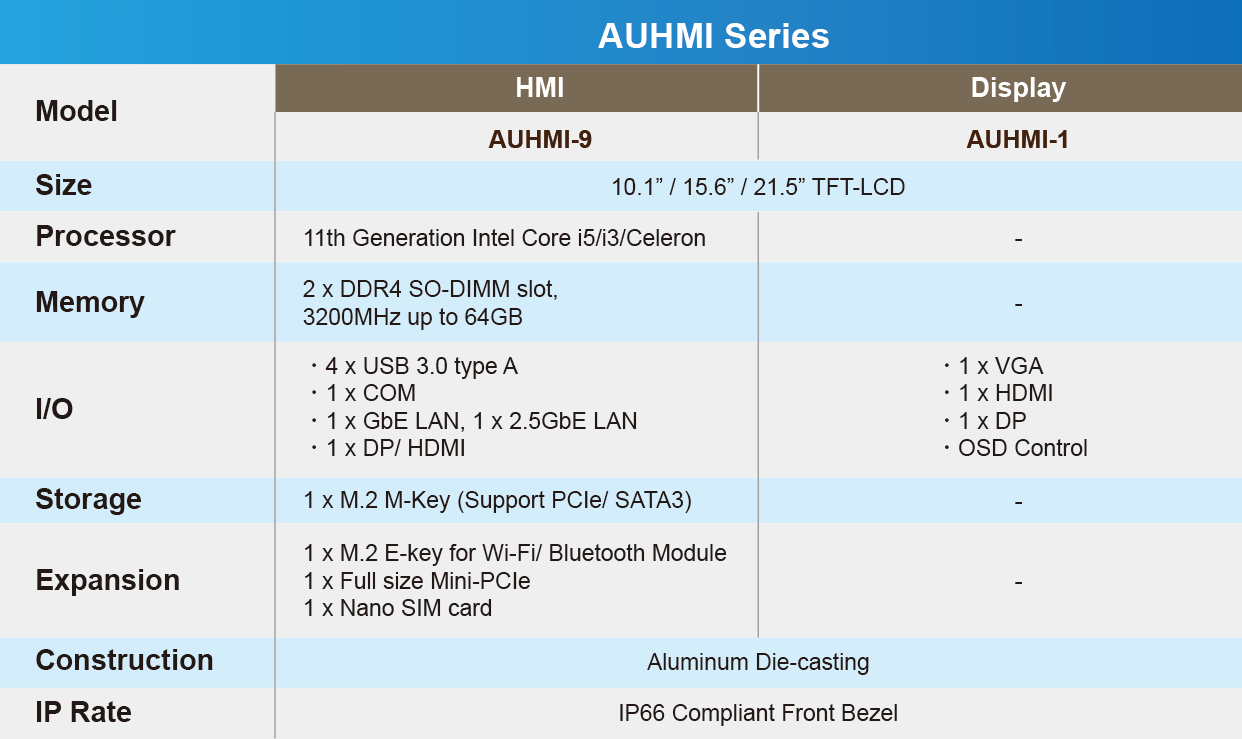 For further product information, please contact our sales team: sales@aplex.com
About APLEX
APLEX Technology Inc. is one of the leading brands in industrial computer products. The company is dedicated to satisfying customer's needs by offering comprehensive solutions and applications, including industrial panel PCs, Human-Machine Interfaces (HMI), industrial displays, and Embedded Box PCs. In addition to a full line of standard products, APLEX also offers customized or OEM/ODM project services. Applications range from factory automation, transportation, retail, hospitality, environmental monitoring, warehousing, medical, to health care. APLEX is publicly traded on TPEX TAIPEI Exchange (Code: 6570).More information is available at www.aplex.com and on LinkedIn,YouTube

Media Contact
Worldwide Office Contact: sales@aplex.com+886-2-82262881
US Office Contact: sales@aplextec.com+1 (669) 999 - 2500
Worldwide PR Contact: wennielo@aplex.com+886-2-82262881-2515