ACS-500, the New Compact Embedded Box PC with Powerful Performance for Smart Manufacturing Solution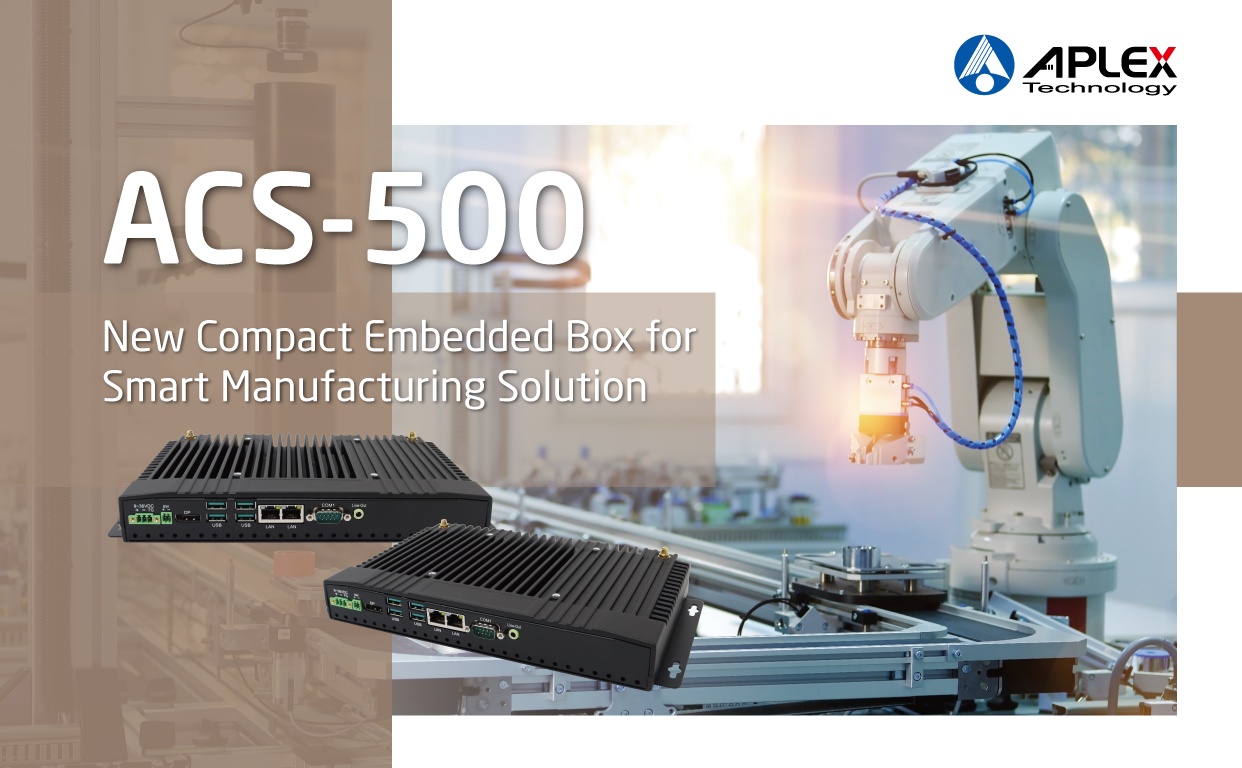 [Taipei, Taiwan-August, 2023]-APLEX Technology Inc., a global industrial computer products solutions provider, is excited to introduce our new embedded box PC for smart manufacturing, the ACS-500. It is designed with compact, slim and space saving features, which is perfect for factory automation and applications with space limitation, such as kiosk and ATM.
ACS-500 is powerful and high performance by equipping with 11th Gen. Intel Core i3/i5 processor. Constructing with aluminum heat sink and fanless design, it has great heat dissipation along with low power consumption. Apart from that, it is rugged to operate under 20°C~60°C and support wide range 9~36V power input.
Expandable and flexible I/O interfaces
As the main core of manufacturing, ACS-500 controls devices to execute the complete production process. Real time data collection, remote monitoring and control are all what it could do for you. It provides 4 x USB 3.0, 2 x COM and 2 x GbE LAN with high speed data transmission. Moreover, it supports graphic I/O port by equipping with DP/HDMI combo connector.

ACS-500 supports 1 x M.2 E-key socket for optional Wi-Fi/BT module, 1 x full size MiniPCIe and 1 x Nano SIM slot for expansion. Nevertheless, the TB-528 series expansion cards are also indispensable optional feature of ACS-500. It offers expansibility and flexibility for I/O interfaces, including USB, COM, CAN, LAN, PoE, and more, to deal with different usage situation and demands.
ACS-500, the main key of preventing damage from manufacturing challenges
In order to optimize the factory operation and improve the efficiency and productivity, ACS-500 has to make sure to maximize the benefit and minimize any impact that failure, malfunction or emergency may cost. Therefore, ACS-500 offers optional backup battery to decrease the damage of sudden power outage. It temporary supports power system to the equipment itself to have sufficient time to shut down properly and prevent hardware/software damage and data loss.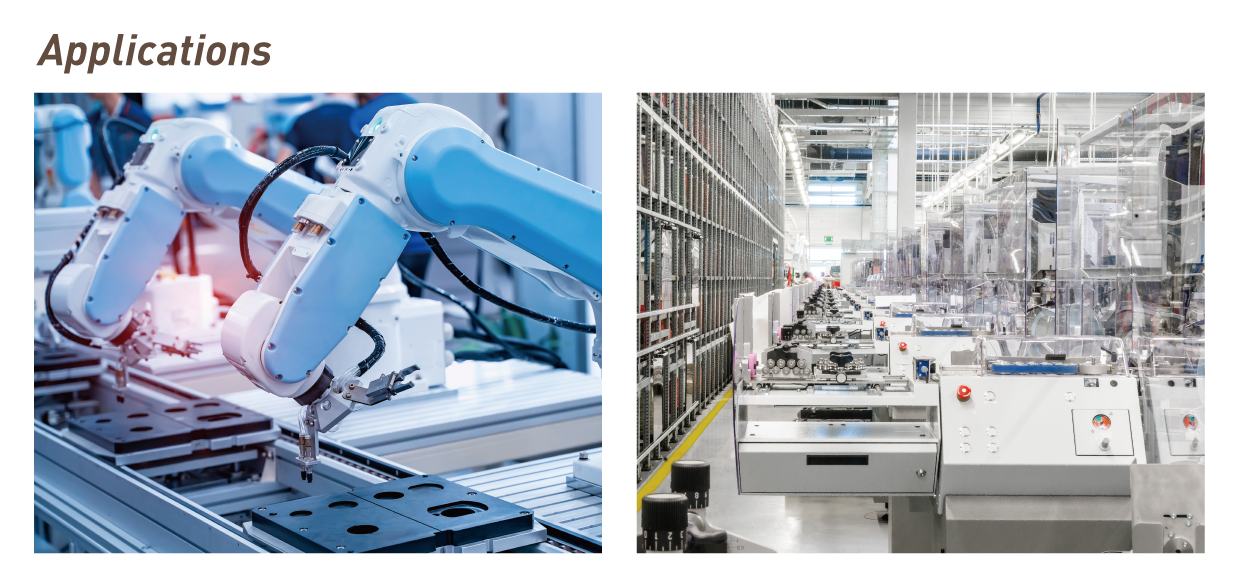 ACS-500 is perfectly well prepared for being operated in AIOT smart factory. It is suitable for various manufacturing application due to its compact and easy configuration advantages. Besides, it supports multiple I/O interfaces with high speed transmission, backup battery to cope with power disruption situations and extensive operating system, such as Windows 10 IoT and Windows 11. ACS-500 is the best embedded box PC for smart manufacturing application.
Products Guide: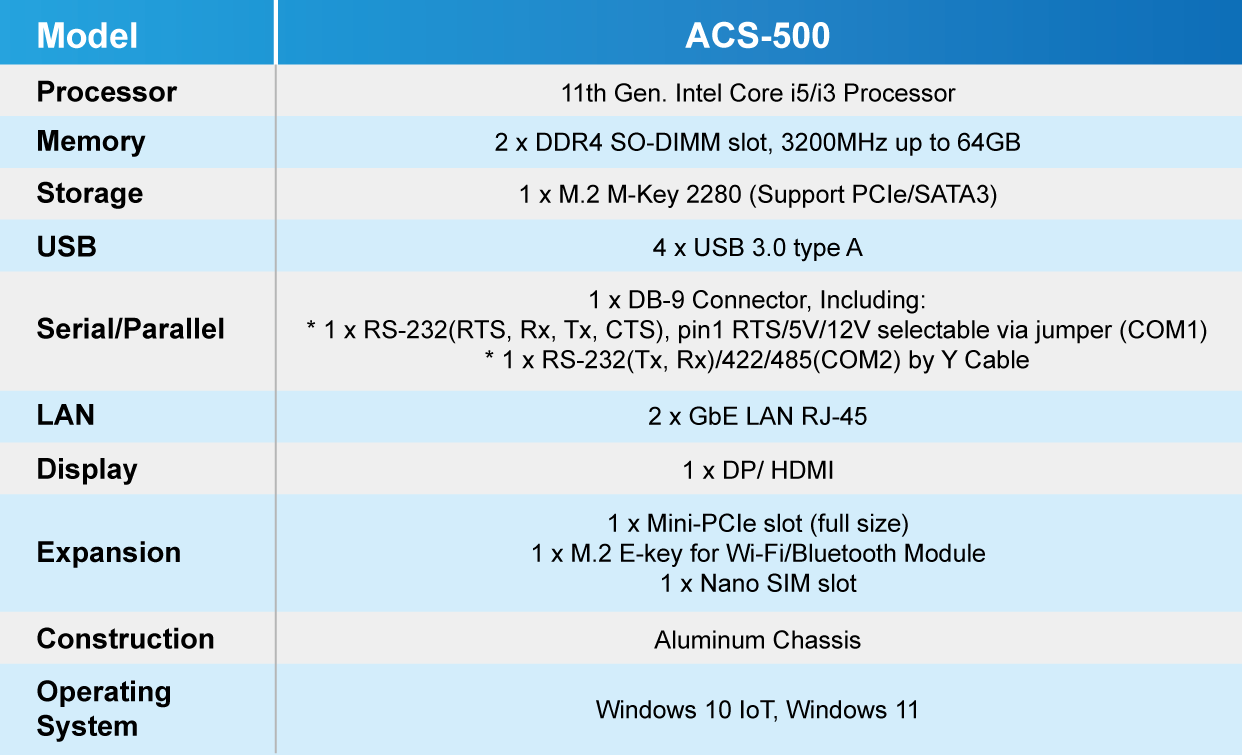 For further product information, please contact our sales team: sales@aplex.com
About APLEX
APLEX Technology Inc. is one of the leading brands in industrial computer products. The company is dedicated to satisfying customer's needs by offering comprehensive solutions and applications, including industrial panel PCs, Human-Machine Interfaces (HMI), industrial displays, and Embedded Box PCs. In addition to a full line of standard products, APLEX also offers customized or OEM/ODM project services. Applications range from factory automation, transportation, retail, hospitality, environmental monitoring, warehousing, medical, to health care. APLEX is publicly traded on TPEX TAIPEI Exchange (Code: 6570).More information is available at www.aplex.com and on LinkedIn,YouTube

Media Contact
Worldwide Office Contact: sales@aplex.com+886-2-82262881
US Office Contact: sales@aplextec.com+1 (669) 999 - 2500
Worldwide PR Contact: wennielo@aplex.com+886-2-82262881-2515