ARCHMI-8B, EV Charger Solution - Smart HMI Controller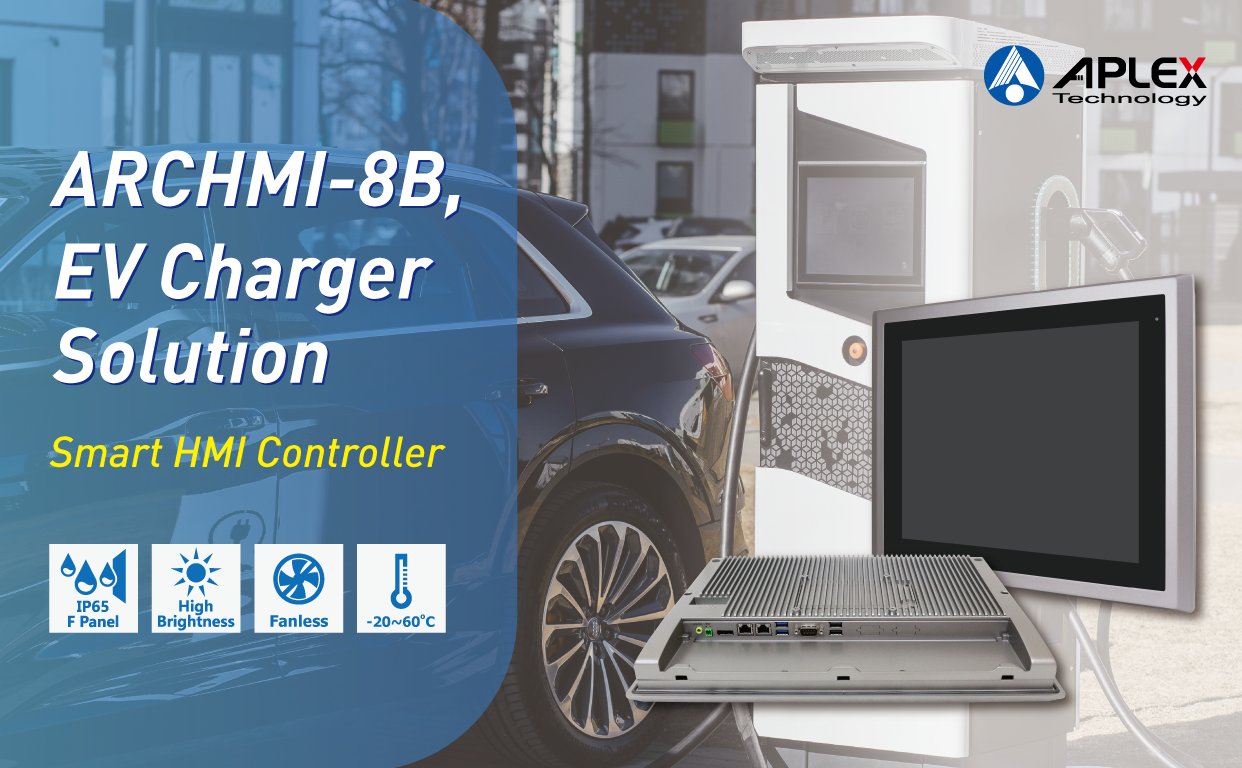 [Taipei, Taiwan-July, 2023]-APLEX Technology Inc., a global industrial computer products solutions provider, is glad to announce our new member of ARCHMI family – the ARCHMI-8B! APLEX provides comprehensive CPU platforms to find your best pick that is compatible with your device.
Nowadays, the trend of having an electric vehicle as transportation is steadily growing. Including private transport and public transport, more and more of it are powered by electricity. On the other hand, the demand of EV charging stations have also increased rapidly. Therefore, APLEX offers a rugged and stable HMI ARCHMI-8B series, which is well suited for EV charger solution.
High performance and high expansibility rugged ARCHMI-8B
ARCHMI-8B is the fanless industrial HMI series that powered by Celeron J6412 from Elkhart Lake platform. It is specialized in AIoT automation, for instance, smart factory, smart manufacturing and even smart transportation. ARCHMI-8B provides best operating interface to play the most essential role in the solution. It communicates and controls devices in the equipment. Moreover, according to your configuration, it supports Windows 10 IoT and Windows 11 operating system that may suit different project requirement.

ARCHMI-8B comes with 7", 10.1", 15", 21.5" TFT-LCD and more sizes are coming soon. It is highly integrated with various applications by featuring with multiple I/O interfaces, including 2 x USB 3.2, 2 x USB 2.0, 1 x COM, 1 x DP and 2 x 2.5GbE LAN. Nevertheless, it also offers expansion card – TB528 series for additional functionality and capability like USB, COM, LAN, CAN bus module and Mini-PCIe interface, etc.
Features bring great benefits and high integration with smart equipment
Expect for the specification, ARCHMI-8B has IP66 rated front bezel and flat front touch screen with resistive touch and projective capacitive touch. Constructed by aluminum die-casting chassis and featuring wide range operating temperature from 0°C ~ 50°C (-20°C ~ 60°C for option). However, with add-on features of auto dimming, optical bonding, AR coating and high brightness solution, it is particularly perfect for semi-outdoor application, like EV-charger, kiosk and ATM.
ARCHMI-8B is the ideal choice for AIoT manufacturing, such as EV charger solution for smart transportation, equipment in smart factory, ATM/ Kiosk solution for smart city, etc. Therefore, through data computing, real-time data transmission, automation control and more, ARCHMI-8B highly benefits the business by improving production/ operating procedure as well as enhancing the efficiency and quality.
Products Guide: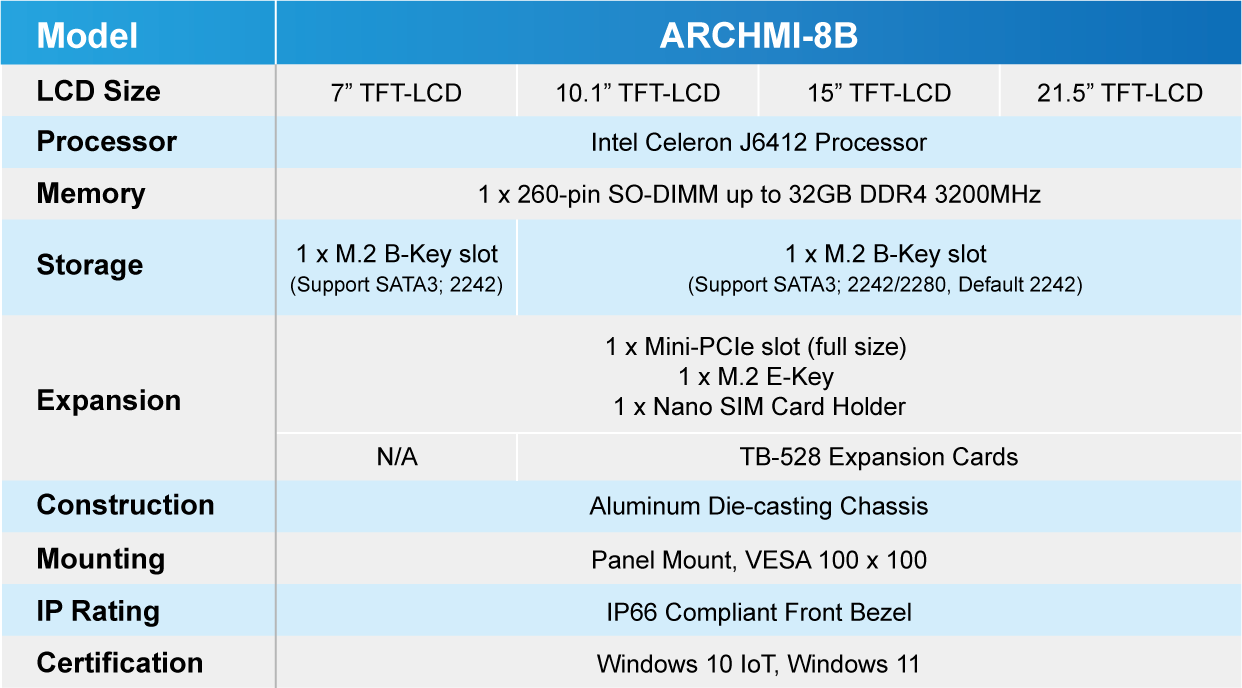 For further product information, please contact our sales team: sales@aplex.com
About APLEX
APLEX Technology Inc. is one of the leading brands in industrial computer products. The company is dedicated to satisfying customer's needs by offering comprehensive solutions and applications, including industrial panel PCs, Human-Machine Interfaces (HMI), industrial displays, and Embedded Box PCs. In addition to a full line of standard products, APLEX also offers customized or OEM/ODM project services. Applications range from factory automation, transportation, retail, hospitality, environmental monitoring, warehousing, medical, to health care. APLEX is publicly traded on TPEX TAIPEI Exchange (Code: 6570).More information is available at www.aplex.com and on LinkedIn,YouTube

Media Contact
Worldwide Office Contact: sales@aplex.com+886-2-82262881
US Office Contact: sales@aplextec.com+1 (669) 999 - 2500
Worldwide PR Contact: wennielo@aplex.com+886-2-82262881-2515