ViKING Series, the Rugged Marine Panel PC for Rapidly Changing Climate and Extreme Weather Conditions of the Ocean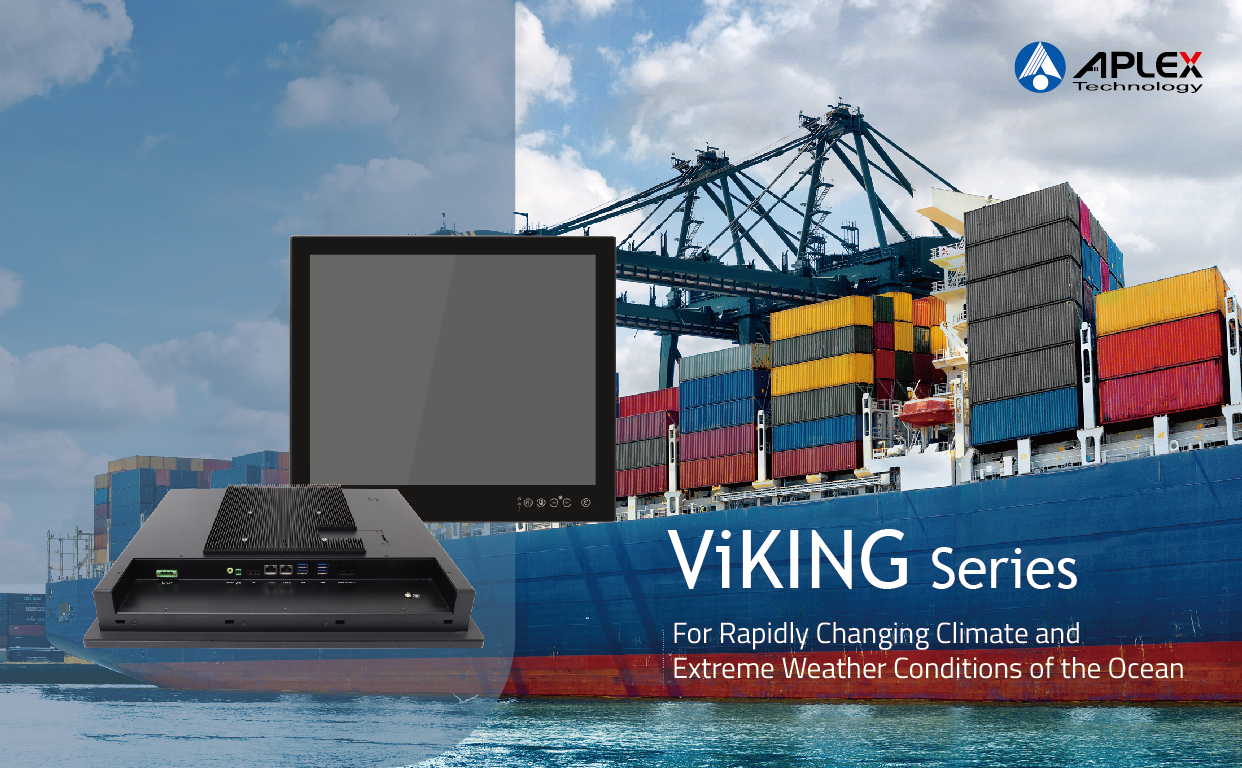 [Taipei, Taiwan-June, 2023]-APLEX Technology Inc., a global industrial computer products solutions provider is excited to introduce our new solution, the marine solution-ViKING series! For maritime industry, safety and reliability are always the upmost concern. Therefore, rugged, durable and long-term operation ability are required for marine facilities to overcome the extreme environment.
On the ocean, vessels will be facing horrible climate, environment and situations such as humidity, water drops, extreme temperature changes and intense shock & vibration. APLEX ViKING series is the fanless, true flat bezel designed marine panel PC with marine certificate and various features. It is able to endure harsh environment while protecting equipment from damage and can highly prevent malfunction situation.
Dimming function and anti-corrosion feature for the best marine navigation solution
In the middle of the ocean, lighting conditions may change massively during daytime and nighttime, therefore lighting control is essential for facilities on vessel. ViKING supports brightness from 0% to 100%, AR coating, optical bonding and three lighting modes for day, dusk and night to provide the best experience of reading information.

Nevertheless, being under such harsh environment, ViKING is rugged and durable enough to challenge it. It can operate under -20 to 60℃ wide range temperature, comes in anti-corrosion feature by passing salt spray test and is certified by IP66 front bezel dustproof/ waterproof to protect the system from salt corrosion, water and moisture damage.
High performance and reliable marine panel PC
Equipping with 8th Gen. Intel core i3/i5 processor, ViKING provides high computing performance for the panel PC to control facilities, rapidly collect data and deliver accurate information. ViKING comes in 12.1", 19" and 24" TFT-LCD with projected capacitive touch and multi-touch function. Featuring isolated I/O design with 1 x 260pin SO-DIMM DDR4 up to 32GB, 4 x USB 3.0, 2 x COM and 1 x DP for effective communication with other devices. Besides, it supports expansibility with expansion card and OSD keypad for quick and friendly operation. Moreover, the storage unit is efficient to exchange by easy access storage design.

Therefore, along with all the features that a marine facility requires, ViKING supports a stable and secure operation for verified functions, including navigation, surveillance, monitoring, data collection, data transmission and ship automation. Besides, equipping with IEC 60945 maritime standard, it is perfect for marine applications, like control room and engine room.
Products Guide:

For further product information, please contact our sales team: sales@aplex.com
About APLEX
APLEX Technology Inc. is one of the leading brands in industrial computer products. The company is dedicated to satisfying customer's needs by offering comprehensive solutions and applications, including industrial panel PCs, Human-Machine Interfaces (HMI), industrial displays, and Embedded Box PCs. In addition to a full line of standard products, APLEX also offers customized or OEM/ODM project services. Applications range from factory automation, transportation, retail, hospitality, environmental monitoring, warehousing, medical, to health care. APLEX is publicly traded on TPEX TAIPEI Exchange (Code: 6570).More information is available at www.aplex.com and on LinkedIn,YouTube

Media Contact
Worldwide Office Contact: sales@aplex.com+886-2-82262881
US Office Contact: sales@aplextec.com+1 (669) 999 - 2500
Worldwide PR Contact: wennielo@aplex.com+886-2-82262881-2515