ViTAM-8B, The New Member of Stainless Steel Solution Powered by Elkhart Lake Platform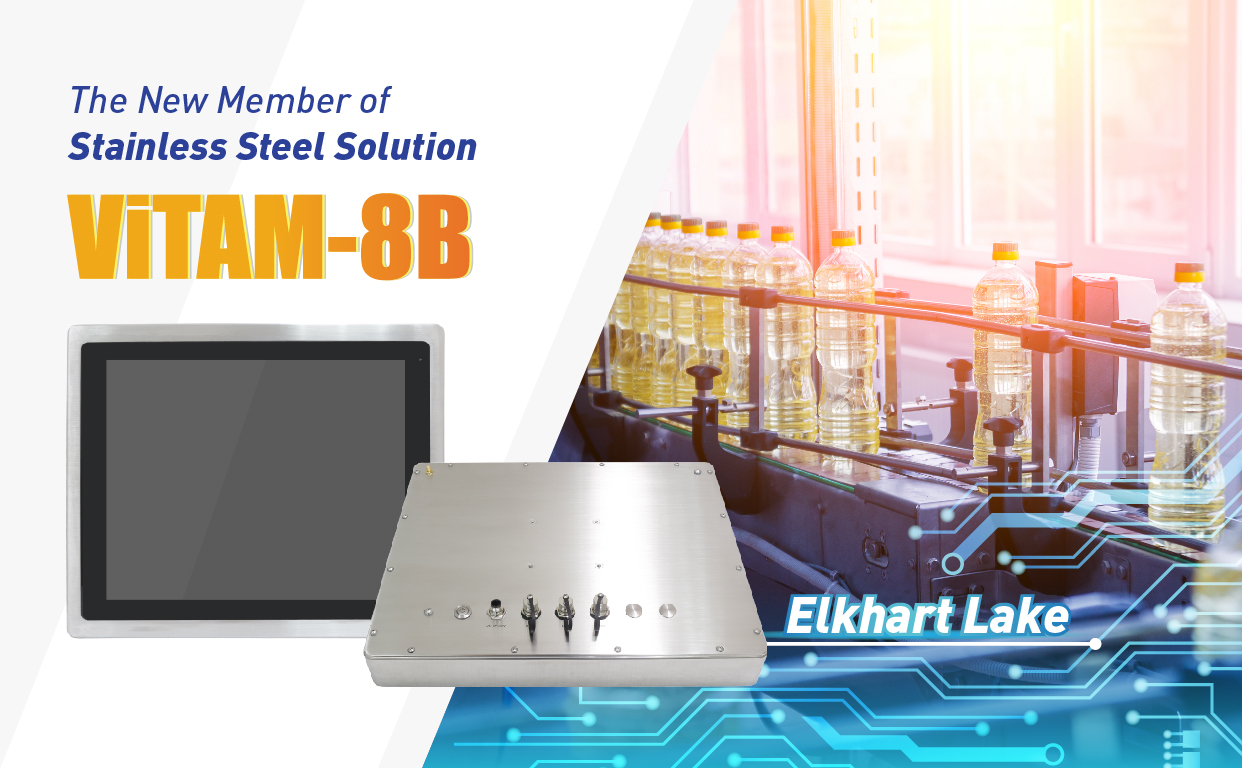 [Taipei, Taiwan-April, 2023]-APLEX Technology Inc., a global industrial computer products solutions provider is glad to introduce our new member of ViTAM series, the ViTAM-8B! ViTAM series is the stainless steel food-grade solution, which is one of our flagship products. Among all of it, ViTAM has the most sequence series with different processors.
High Performance ViTAM-8B supports multiple communications
ViTAM series comes in processors with Intel core platform, Intel Celeron platform and ARM-based. Yet, ViTAM-8B is powered by Intel Celeron J6412 processor with integrated graphics processing. Therefore, it provides a great balance between the performance, quality and the cost for customers.
ViTAM-8B supports both projected capacitive touch and resistive touch. It has 1 x USB, 1 x COM, 1 x LAN with 1 x 2.5" SATA3 HDD and 2 x optional blank I/O connectors for following options: 2 x USB 2.0, 1 x USB 3.0, 1 x LAN (POE for option), 1 x COM and 1 x CAN. Moreover, it's memory comes in 1 x 260-pin SO-DIMM up to 32GB DDR4 3200MHz and 1 x M.2 B-key 2242 for storage space. ViTAM-8B also offers optional 1 x M.2 E-key 2230 socket (PCIe+USB) and Wi-Fi or Bluetooth.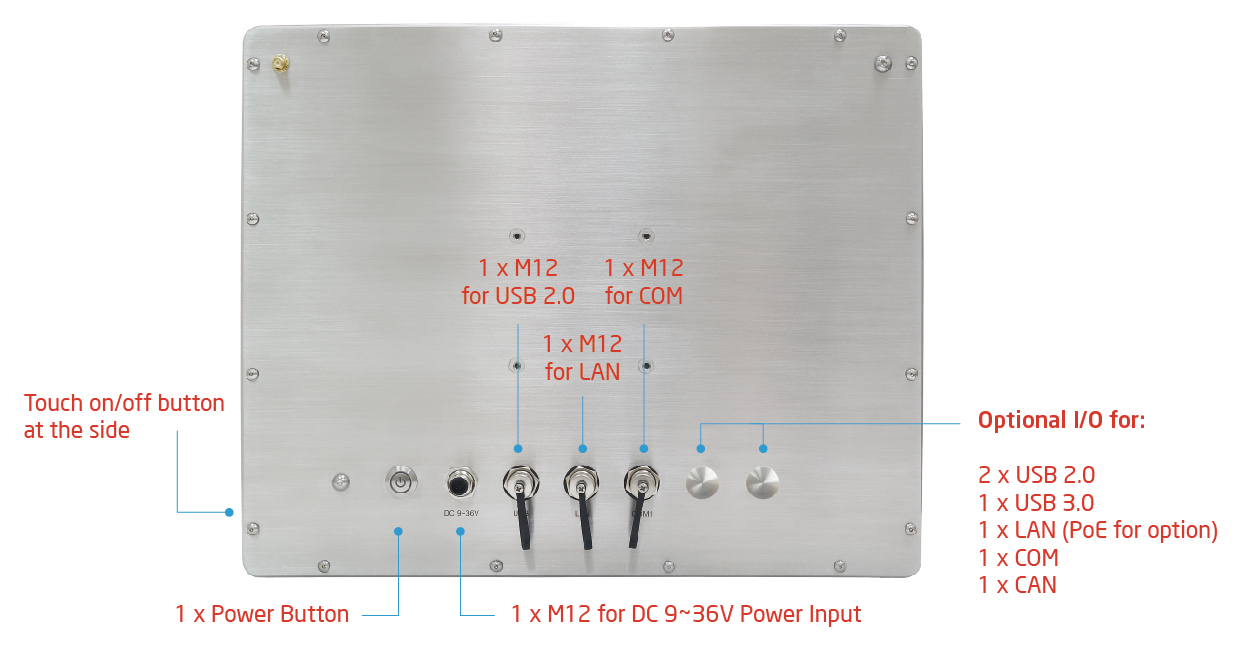 Special wash down design with rugged waterproof stainless steel enclosure
More than that, ViTAM-8B is not only a panel PC that performs well; it is also durable and rugged by featuring SUS304/ SUS316 stainless steel enclosure to provide anti-corrosion, anti-bacteria and anti-oxidation features. Nevertheless, ViTAM-8B comes in IP66/69K waterproof and fanless design with every I/O ports equipping with M12 connectors and waterproof cover to prevent water ingress. Besides, it is able to operate under wide temperature 0~50°C while resist high temperature (80°C) and high pressure (100 bar) cleaning.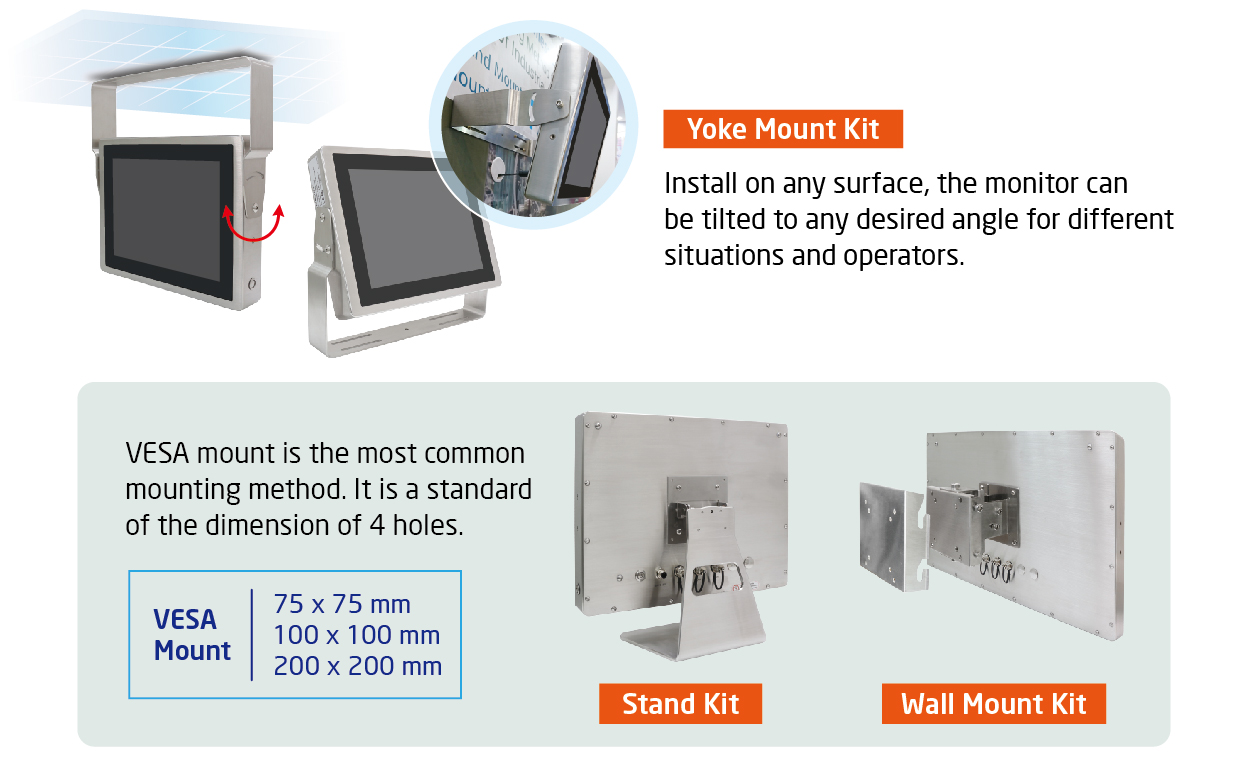 Moreover, ViTAM-8B offers optional RFID module for friendly and efficient operation, as well as supports VESA mount and Yoke mount to fit in different factory arrangements. Therefore, combining advantages that all the features ViTAM-8B has and what stainless steel brings, it is perfect for food manufacturing and industries that concern about hygiene. Especially for those that have intense daily cleaning routine. ViTAM-8B features easy cleaning and is able to present stable operation experience, which makes your food manufacturing assured.
Products Guide: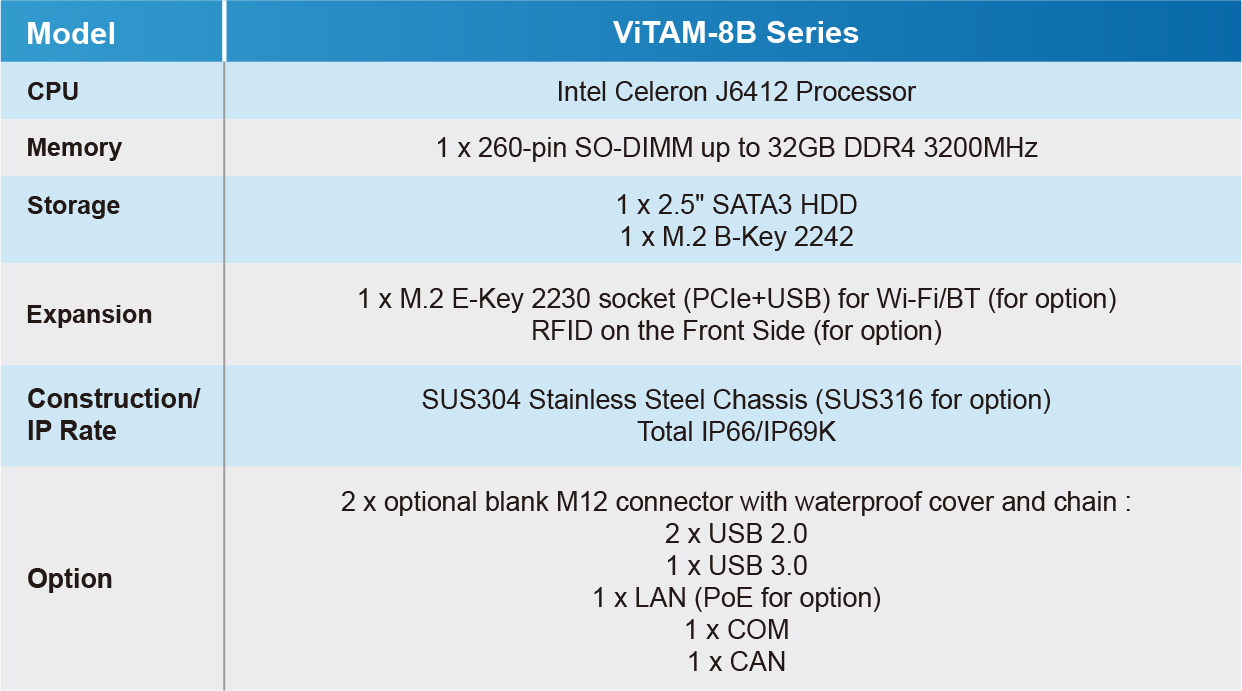 For further product information, please contact our sales team: sales@aplex.com
About APLEX
APLEX Technology Inc. is one of the leading brands in industrial computer products. The company is dedicated to satisfying customer's needs by offering comprehensive solutions and applications, including industrial panel PCs, Human-Machine Interfaces (HMI), industrial displays, and Embedded Box PCs. In addition to a full line of standard products, APLEX also offers customized or OEM/ODM project services. Applications range from factory automation, transportation, retail, hospitality, environmental monitoring, warehousing, medical, to health care. APLEX is publicly traded on TPEX TAIPEI Exchange (Code: 6570).More information is available at www.aplex.com and on LinkedIn,YouTube

Media Contact
Worldwide Office Contact: sales@aplex.com+886-2-82262881
US Office Contact: sales@aplextec.com+1 (669) 999 - 2500
Worldwide PR Contact: wennielo@aplex.com+886-2-82262881-2515