AVS-320, The New Compact Machine Vision Box PC for Automated Inspection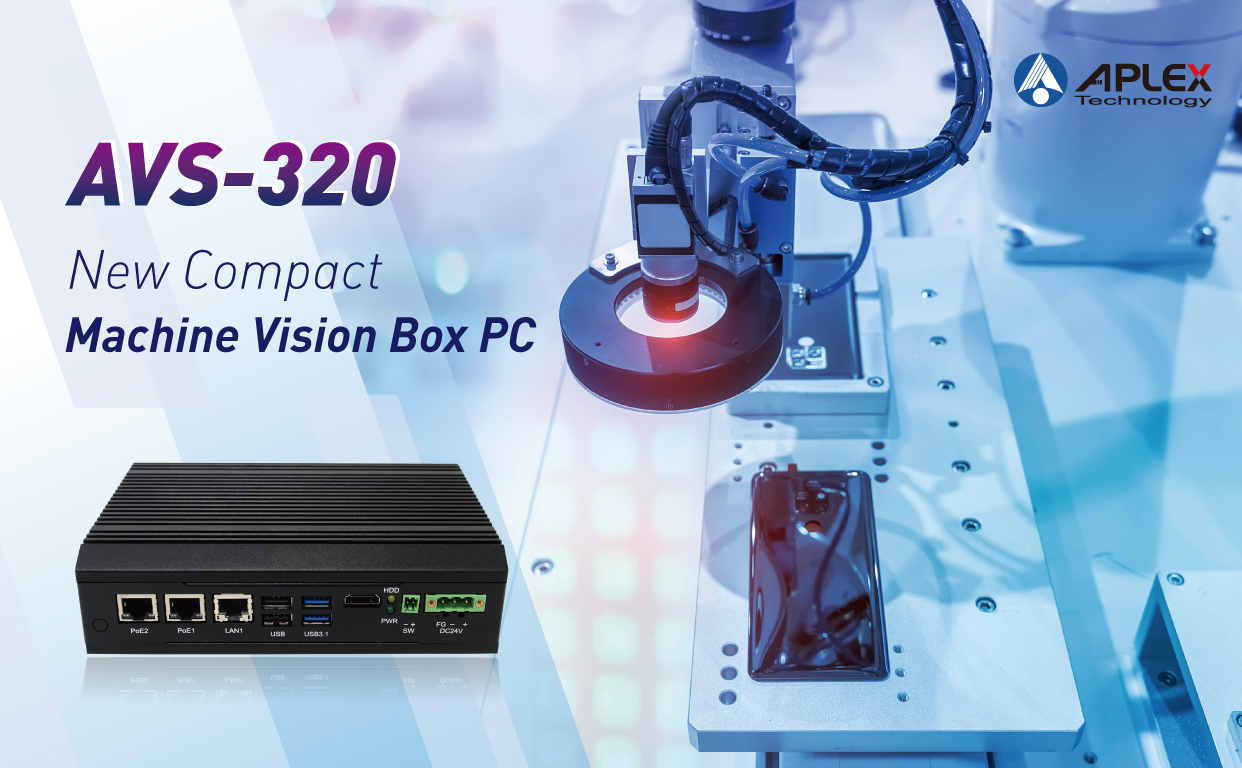 [Taipei, Taiwan-December, 2022]-APLEX Technology Inc., a global industrial computer products solutions provider, is glad to introduce our new machine vision product, the AVS-320! The compact fanless box PC is playing a vital role in machine vision of manufacturing automation and smart industry.



The I/O Interfaces and Features of AVS-320


AVS-320 is powered by Elkhart Lake processor with up to 32GB DDR4 system memory and has multiple I/O interfaces. It supports 2 x USB 3.1, 2 x USB 2.0, 2 x COM, 1 x VGA, 1 x HDMI, 3 x LAN (1 x GbE, 2 x PoE with Intel I210-AT) and 1 x 8-bit GPIO. Moreover, it also has on board expansion bus for 1 x M.2 B-Key and 1 x M.2 M-Key. With all these I/O interfaces, it can easily integrate with machine vision cameras and other peripheral devices to collect and analyze image data in real-time, which made it suitable for machine vision applications like default inspection and AI surveillance.



Moreover, AVS-320 is a rugged, durable and reliable, embedded aluminum heatsink and steel chassis box PC. It is able to resist wide temperature operation under -20 ~ 70˚C. Besides, it supports 24V DC input and in company with its compact, space-saving size, it is flexible and easy to configure.



AVS-320 for AI Machine Vision Applications


Machine vision is mostly about benefit the efficiency, with the help of artificial intelligent and deep learning; manufactures can highly improve the productivity of production line. For example, to identify the flaws on products during manufacturing like defect detection or PCB inspection; to scan and distinguish products for product sorting. On the other hand, in charge the duty of automatic license plate recognition in parking lot. In those situations, AVS-320 can provide a high-speed and perfect precision to incredibly increase the productivity and product quality, in addition to decrease the risk of recalls and minimize the cost from labor cost and defectives waste.



AVS-320 equipped with features of compact, lightweight, rugged, reliable, powerful computing performance, graphic performance and rich I/O interfaces all rolled into one, it can fulfill versatile and flexible machine vision applications in manufacturing automation and reach into IIoT and Industry 4.0.



Products Guide: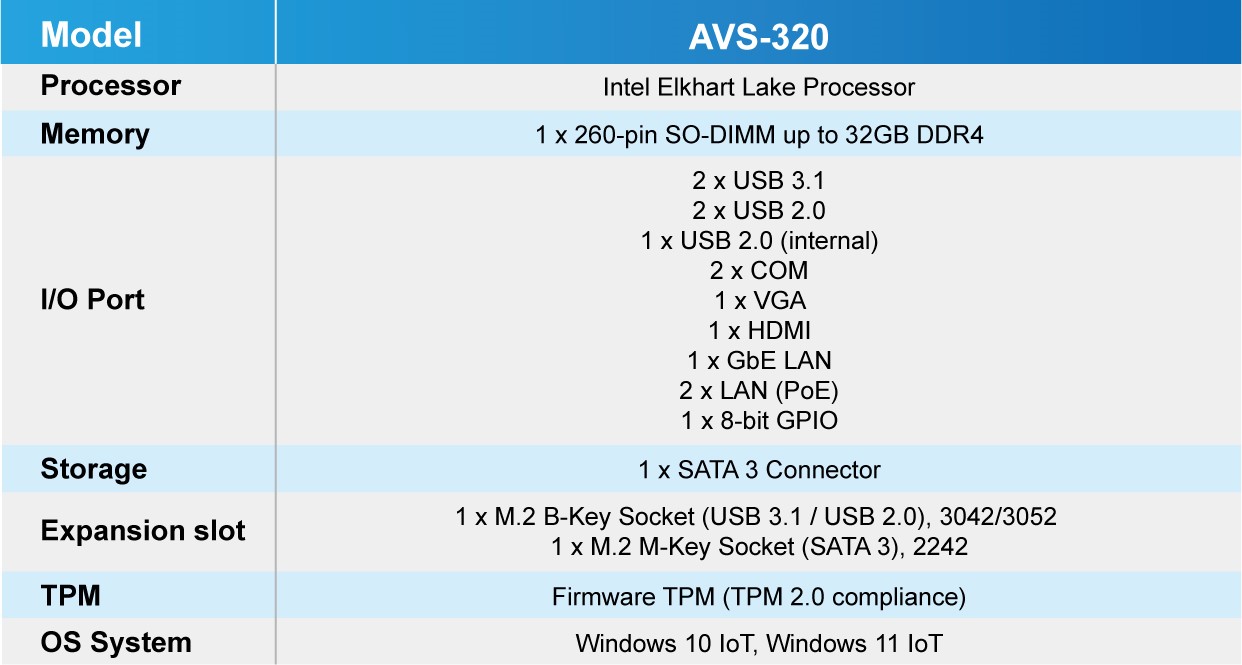 For further product information, please contact our sales team: sales@aplex.com



About APLEX
APLEX Technology Inc. is one of the leading brands in industrial computer products. The company is dedicated to satisfying customer's needs by offering comprehensive solutions and applications, including industrial panel PCs, Human-Machine Interfaces (HMI), industrial displays, and Embedded Box PCs. In addition to a full line of standard products, APLEX also offers customized or OEM/ODM project services. Applications range from factory automation, transportation, retail, hospitality, environmental monitoring, warehousing, medical, to health care. APLEX is publicly traded on TPEX TAIPEI Exchange (Code: 6570).More information is available at www.aplex.com and on LinkedIn,YouTube

Media Contact
Worldwide Office Contact: sales@aplex.com+886-2-82262881
US Office Contact: sales@aplextec.com+1 (669) 999 - 2500
Worldwide PR Contact: wennielo@aplex.com+886-2-82262881-2515