APLEX is Bring Comprehensive New Solutions to Amaze you at SPS 2022
Taipei, Taiwan-November, 2022-With the rapid progress of AIoT, applying new emerging innovations to various fields will foster continuous expansion of global smartization opportunities.
APLEX Technology Inc., a global industrial computer products solutions provider. After years of Covid-19, we are excited to announce that APLEX are participating in SPS trade fair, the Europe's leading exhibition for digital automation and smart production solutions in Nuremburg, Germany from 8th to 10th November. APLEX will showcase brand new innovative products at hall 7-188 to have a look into the future of automation with you.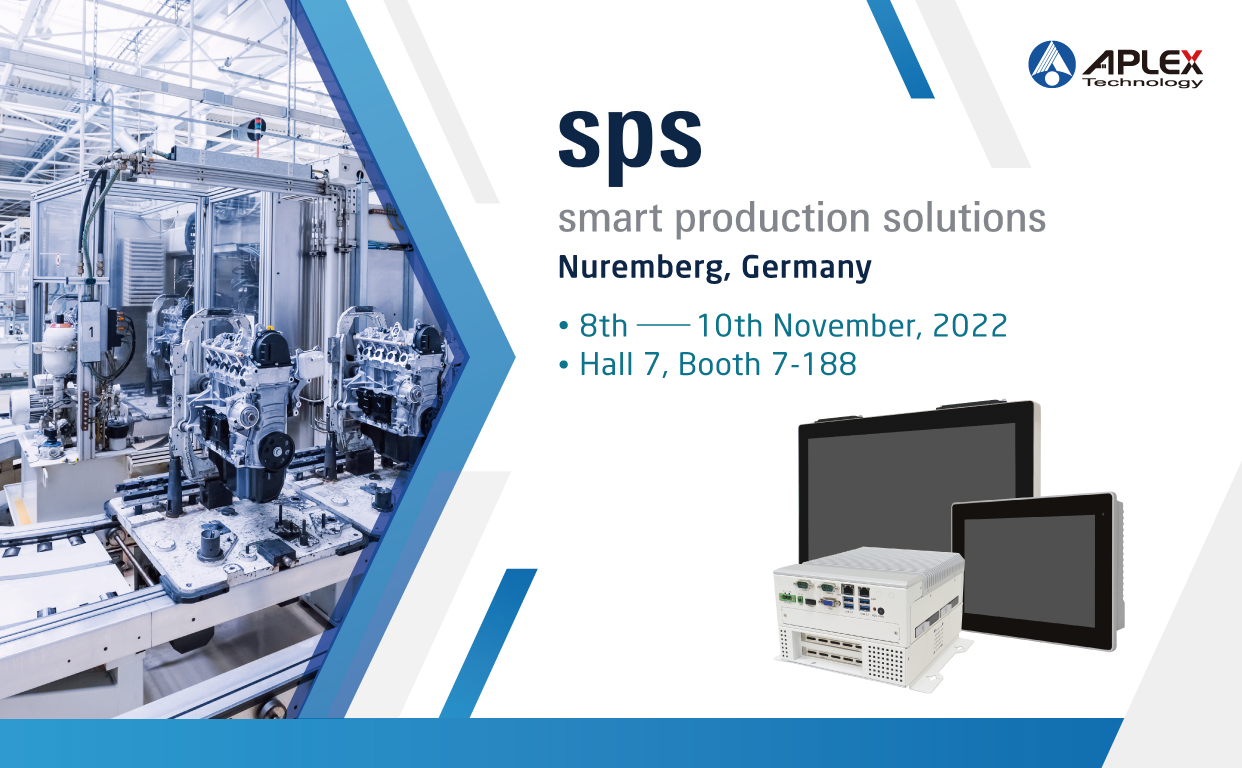 At SPS smart production solutions 2022, APLEX will be on hand to show the robust embedded systems and solutions for smart factories, smart transportation and smart medical as follows:
Smart manufacturing by Digitalized and Data Visualized
Smart manufacturing is now a crucial factor in advancing production ability, efficiency, and accuracy. At SPS, we will present HMI solutions including newly lunched AUHMI series that is featuring rugged structure and modular design with great outlook.
Besides, the newly stainless steel panel PC- PhanTAM series is also showcased as well. PhanTAM series is specifically designed for food and beverage industry due to its unique hygienic features. It is a food-safe grade solution, which can be applied to automate food manufacturing to avoid contamination, ensure safe operations and meet exacting hygiene and safety standards. With our comprehensive solutions, which is an efficient way to implement digitalized, and data visualized as well as bring benefits for managing smart factories.
On the other hand, regarding the machine vision solution, we will be demonstrating a vision application that shows AI visual defect inspection with high performance machine vision computing.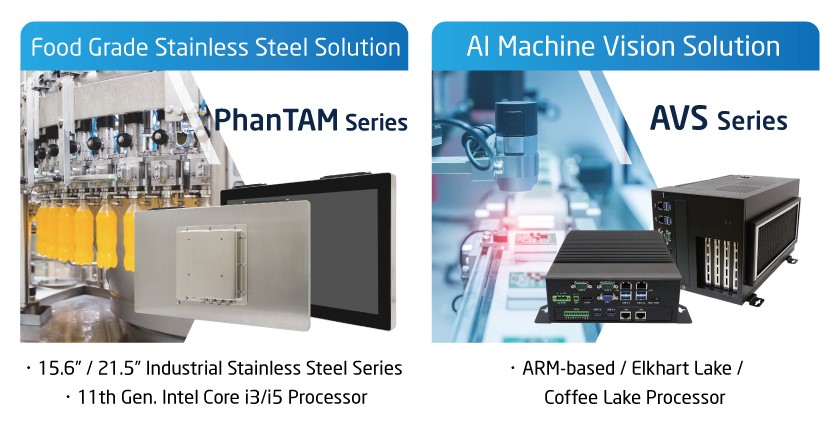 Smart Medical Solutions are Making Their First Debut
In smart medical solutions, we have launched the whole new product line- EIRA series with medical panel PC, mobile tablet and box PC. The EIRA series are certified by ISO 13485 and EN-60601 to be operated in medical application fields such as medical cart, nursing management, portable ultra-sound scanner, AI image analysis and so on. With the anti-bacteria, safety I/O isolated design and high performance computing ability, EIRA is a perfect solution for smart medical and hospitals.

Top-class Smart Transportation Solutions with Excellent Stability and Innovative Features
APLEX provides rugged and stable solutions for smart transportation. At SPS, we will demonstrate a number of series in-vehicle and marine panel PCs as well as rugged tablet. The in-vehicle solution is aimed for vehicle management, logistics, agricultural vehicles and outdoor security gateway by the flowing advantages: SAE J1939 standard, ISOBUS protocol, ALT mode Type-C Dual-Display, Total IP65 waterproof, sunlight readable and so on. For marine solution, the ViKING series meets the IEC 60945 marine certification and is designed under DNV standards to be your best partner in marine navigation. Therefore, APLEX smart transportation solution is best suited for harsh and extreme operating environments.

APLEX is bring all-round solutions that can highly improve your business with multiple application fields to SPS 2022. We sincerely welcome you to find out more interesting solutions with us! If you need more information, or a face-to face discussion, please contact our sales team: sales@aplex.com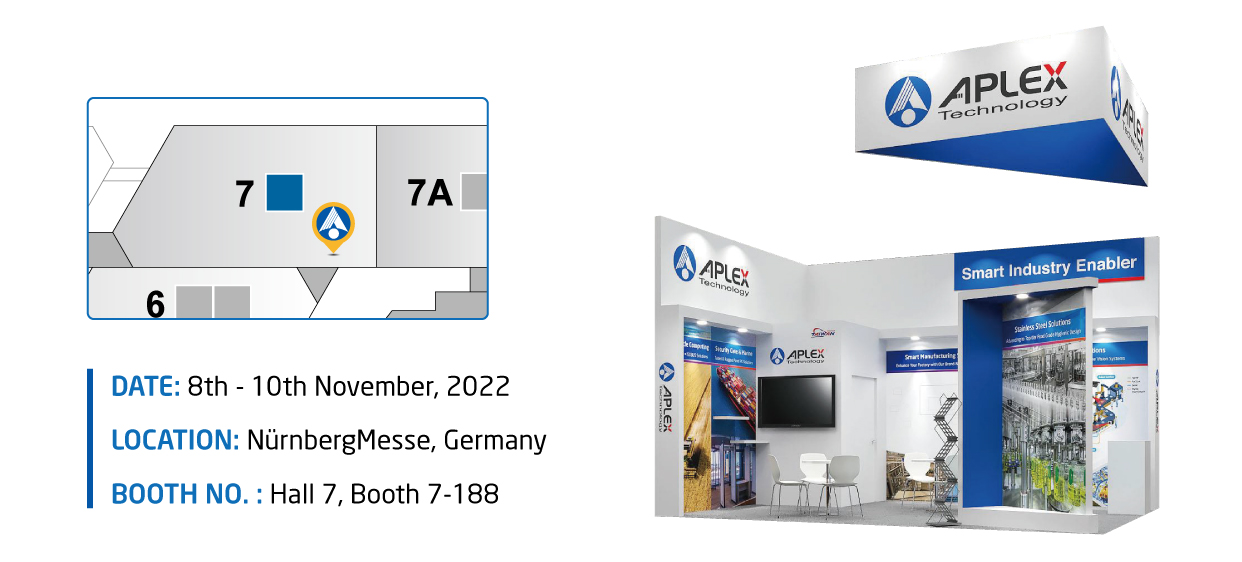 For further product information, please contact our sales team: sales@aplex.com
About APLEX
APLEX Technology Inc. is one of the leading brands in industrial computer products. The company is dedicated to satisfying customer's needs by offering comprehensive solutions and applications, including industrial panel PCs, Human-Machine Interfaces (HMI), industrial displays, and Embedded Box PCs. In addition to a full line of standard products, APLEX also offers customized or OEM/ODM project services. Applications range from factory automation, transportation, retail, hospitality, environmental monitoring, warehousing, medical, to health care. APLEX is publicly traded on TPEX TAIPEI Exchange (Code: 6570).More information is available at www.aplex.com and on LinkedIn,YouTube

Media Contact
Worldwide Office Contact: sales@aplex.com+886-2-82262881
US Office Contact: sales@aplextec.com+1 (669) 999 - 2500
Worldwide PR Contact: wennielo@aplex.com+886-2-82262881-2515