The Smart Medical Solution for Image Analysis Applications , EIRA-522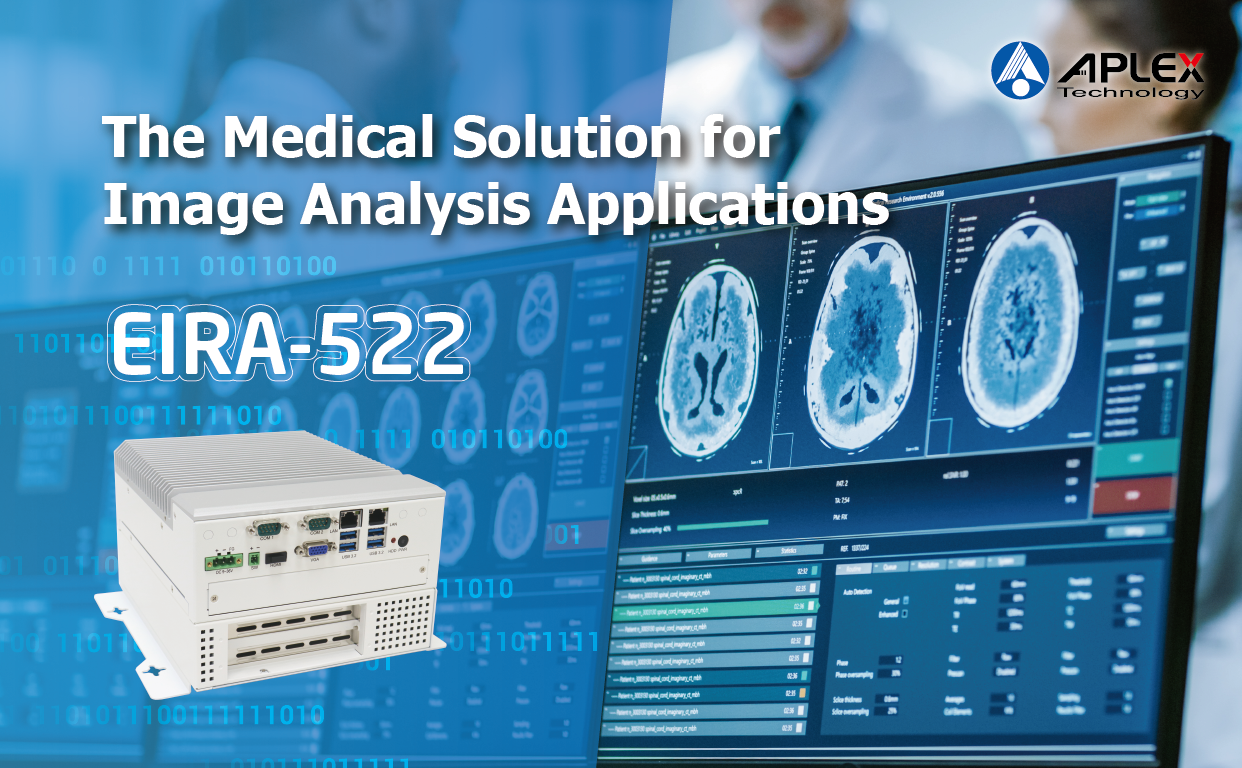 Taipei, Taiwan-August, 2022-APLEX Technology Inc., a global industrial computer products solutions provider, is pleasant to introduce our brand new product line, the medical solution-EIRA-522! It is a box PC of smart medical solution for medical image application, which helps AI analyze the images from medical image process.
Before AI systems has been deployed in healthcare, doctors have to analyze all the medical images and diagnose the result completely based on their experience and knowledge. Doctors have to compare numerous pictures and discuss for a while which is somehow inefficient and time wasting. Therefore, AI image analysis plays a significant role in order to assist doctors to make the right decision and to save more time. It can help doctors quickly inference complex and arduous tasks and make the right treatment plan.
Through Machine Learning, EIRA-522 can be a Huge Influence in Medical Image Analysis
APLEX EIRA-522 is designed to perform those complex and difficult missions in the medical field. By AI machine learning, EIRA-522 can detect abnormality. For example, from inflammation, infection, ulcer to more serious situation like tumor and cancer. Hence, EIRA-522 has feature high computing performance and equip with extensive GPU expansion to meet medical application requirements with AI solutions.

EIRA-522 is powered by 9th Gen. Intel Core i7/i5/i3 processor and is supporting by DDR4 memorySO-DIMM up to 64GB. Moreover, the storage space has 2 x 2.5" SATA3 HDD/SSD with easy-swappable HDD tray. It supports various I/O interfaces such as 4 x USB 3.0, 1 x internal USB 2.0 for dongle, 2 x COM, 1 x VGA, 1 x HDMI and 2 x LAN. For expansion, there are 1 x full size Mini-PCIe slot, 1 x M.2 M-key 2280/2242 support NVMe and 1 x PCIe x16, 1 x PCIe x4 for riser cards as well GPU expansion.
Manufactured by ISO 13485 certified manufacturing center, EIRA-522 is well prepared for smart medical solutions. EIRA-522 can interpret images for X-rays, CT, MRI, PET and more. It is seamlessly to integrate with various medical imaging systems and provide a precise and fast medical decision. APLEX smart medical box PC, EIRA-522 equip with extraordinary machine learning ability and good graphic and computing performance to assist medical personnel and benefit more patients.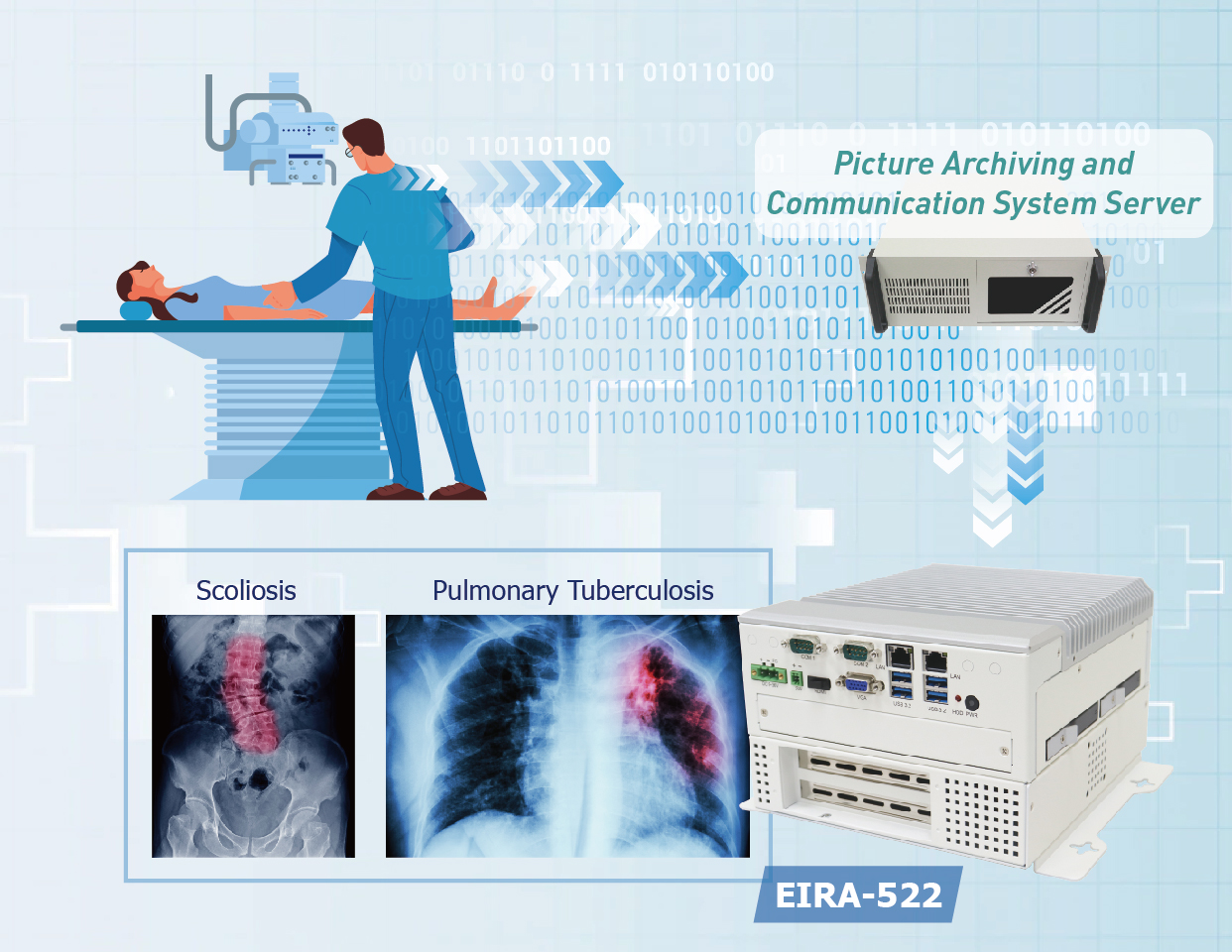 Products Guide: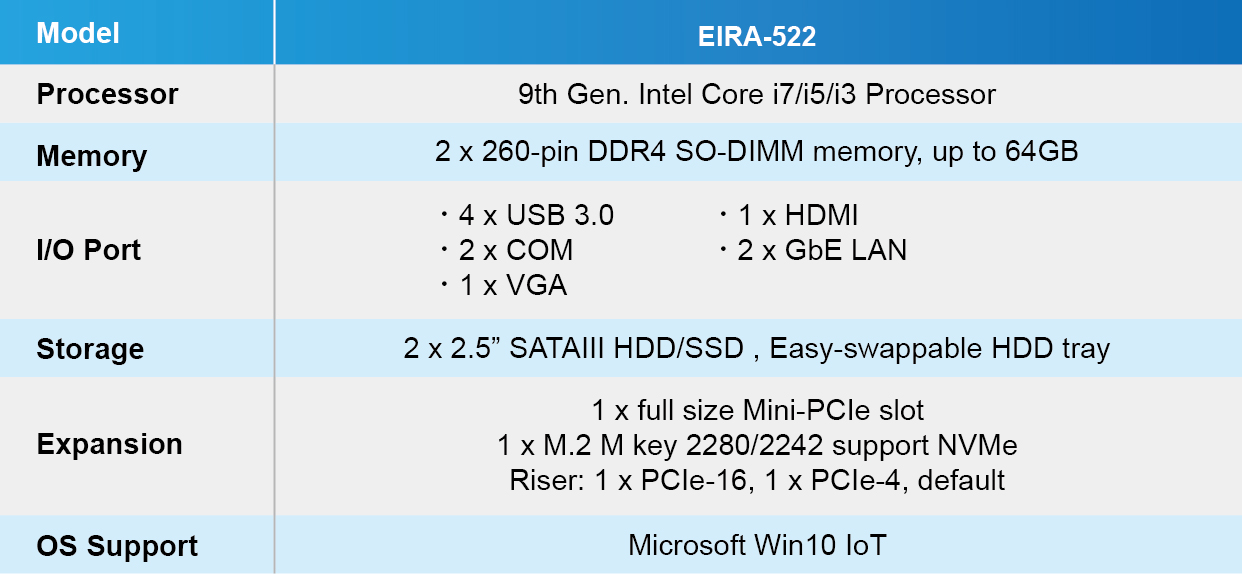 For further product information, please contact our sales team: sales@aplex.com
About APLEX
APLEX Technology Inc. is one of the leading brands in industrial computer products. The company is dedicated to satisfying customer's needs by offering comprehensive solutions and applications, including industrial panel PCs, Human-Machine Interfaces (HMI), industrial displays, and Embedded Box PCs. In addition to a full line of standard products, APLEX also offers customized or OEM/ODM project services. Applications range from factory automation, transportation, retail, hospitality, environmental monitoring, warehousing, medical, to health care. APLEX is publicly traded on TPEX TAIPEI Exchange (Code: 6570).More information is available at www.aplex.com and on LinkedIn,YouTube

Media Contact
Worldwide Office Contact: sales@aplex.com+886-2-82262881
US Office Contact: sales@aplextec.com+1 (669) 999 - 2500
Worldwide PR Contact: wennielo@aplex.com+886-2-82262881-2515