APLEX AEx Series Have all Passed ATEX Zone 22 Standard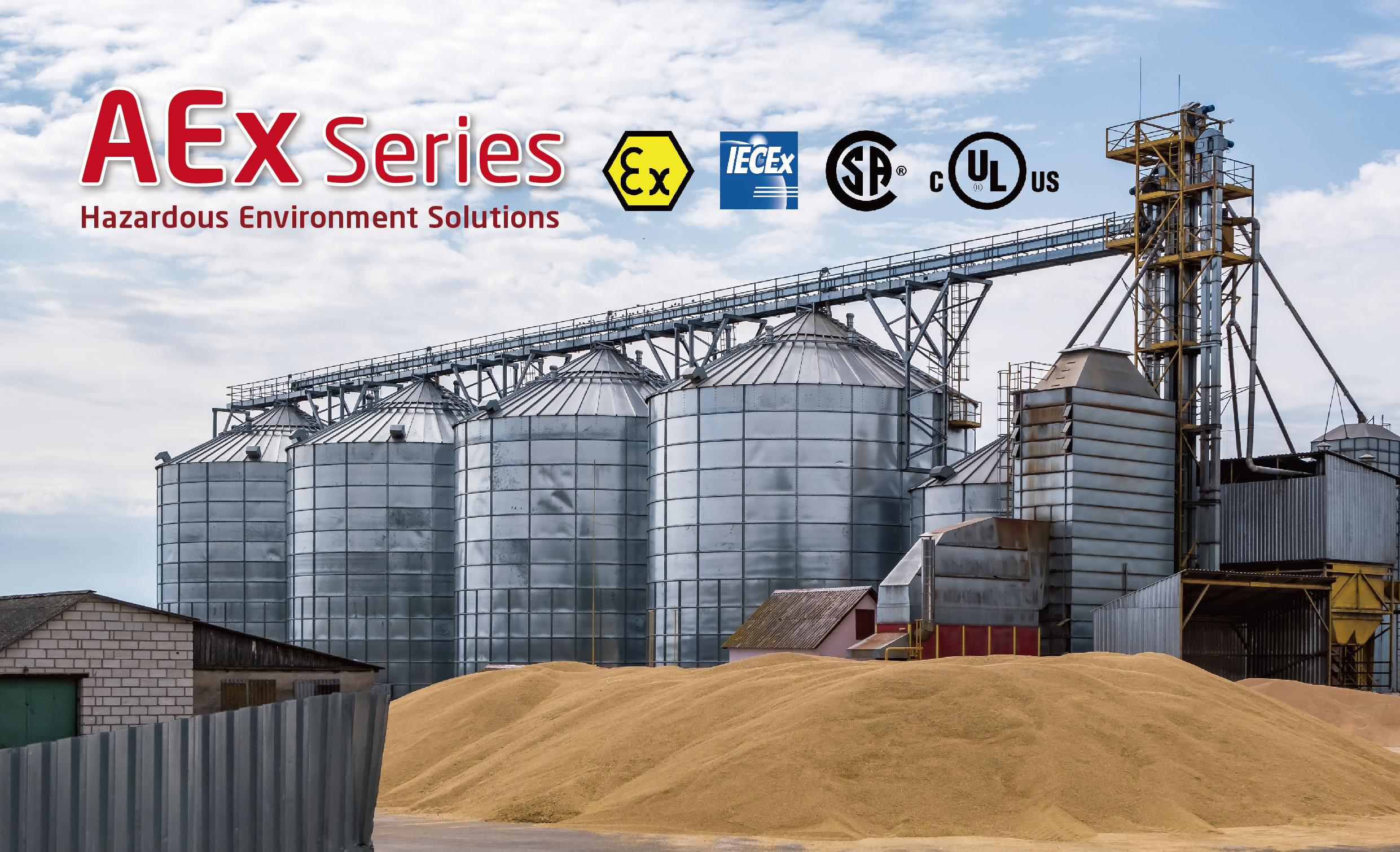 Taipei, Taiwan-February, 2022-APLEX Technology Inc.,a global industrial computer products solutions provider, is proudly to announce that our AEx series has all passed the ATEX Zone 22! AEx series is composed of all-round product lines, including panel PC(AEx-8, AEx-9), display(AEx-1) and box PC(AEx-2410, AEx-2411). They are designed for hazardous environment applications, such as oil,gas, flour mills, mines and chemical industries.
The hazardous area classification
In those industries, there are huge risks of explosion that might occur due to the harsh environments. There are three factors that can cause explosions when it all occurs at the same time, the explosive materials, oxygen and a source of ignition. Explosive materials include flammable gases, mists, vapor and combustible dusts. Therefore, devices have to be extremely durable and trusted to provide a safe working environment.
APLEX's AEx series has all passed the explosion proof certifications, not only includes Class 1 Division 2, Class 2 Division 2, IECEx, ATEX Zone 2 but also the newly passed ATEX Zone 22. The ATEX is the certification for explosive atmospheres and the "Zone" is classified by different grades of explosive environments.
For example, Zone 2 is classified as an area consists of the mixture of flammable materials in the form of gas, vapor, liquid or mist. On the other hand, Zone 22 is classified as an area consists of a group of combustible dust in the air. Both environments are extremely dangerous when ignition occurs, it may cause a very severe explosion.

Multiple features of rugged AEx series
AEx series is certified by lots of certifications, nevertheless it also has lots of features. All series of AEx are waterproofed, they are total IP66 certified and are equipped with full I/O solutions with M12 connectors, such as 1 x DC9~36V, 1 x LAN, 2 x USB 2.0, 1 x RS-232/422/485 and 1 x VGA. The displays and panel PCs have flat bezel and modular design which is easy to clean and maintain. Besides, you can easily replace the computing system with other sizes' display panel as well. In addition, AEx series offers sunlight readable solutions and optional wireless communications, including GPS module, Wi-Fi, 4G LTE and Bluetooth.

To elevate your factory efficiency and provide a safe working environment, AEx series may be your top choice! It can meet all the requirements for hazardous factory applications and can applicate for various tasks, including data collection, real-time monitoring, inspection, notification, etc.
Products Guide: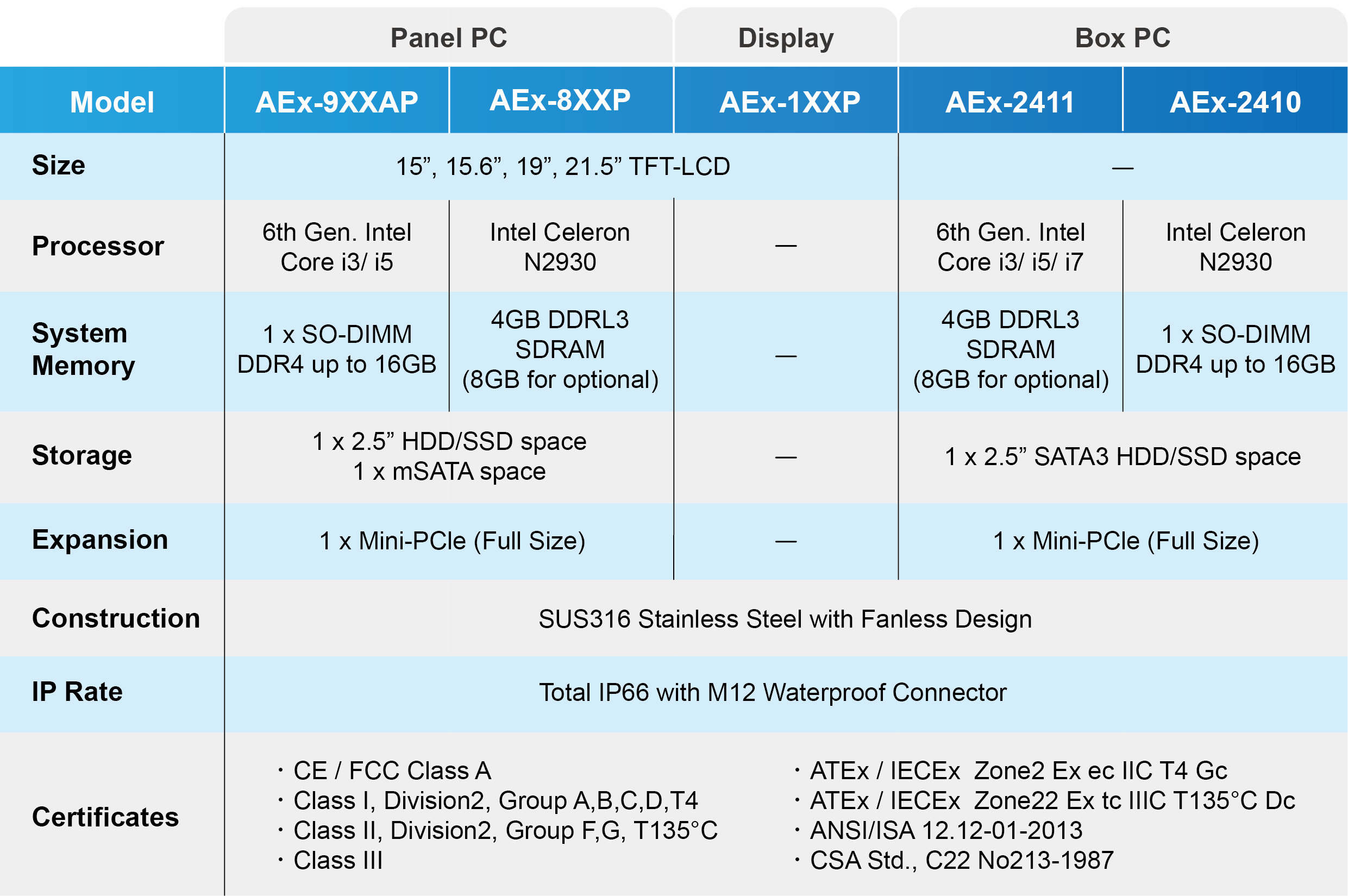 Products Video:
For further product information, please contact our sales team: sales@aplex.com
About APLEX
APLEX Technology Inc. is one of the leading brands in industrial computer products. The company is dedicated to satisfying customer's needs by offering comprehensive solutions and applications, including industrial panel PCs, Human-Machine Interfaces (HMI), industrial displays, and Embedded Box PCs. In addition to a full line of standard products, APLEX also offers customized or OEM/ODM project services. Applications range from factory automation, transportation, retail, hospitality, environmental monitoring, warehousing, medical, to health care. APLEX is publicly traded on TPEX TAIPEI Exchange (Code: 6570).More information is available at www.aplex.com and on LinkedIn,YouTube

Media Contact
Worldwide Office Contact: sales@aplex.com+886-2-82262881
US Office Contact: sales@aplextec.com+1 (669) 999 - 2500
Worldwide PR Contact: wennielo@aplex.com+886-2-82262881-2515