APLEX Launches the Ideal In-vehicle Panel PC for Heavy Industry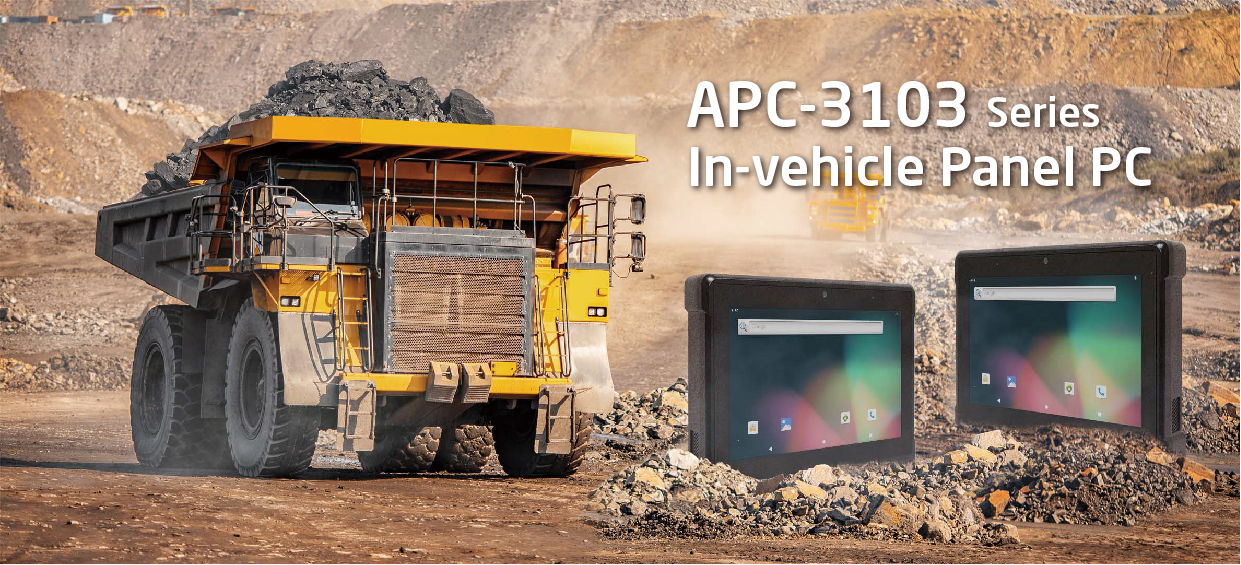 Taipei, Taiwan-January, 2022-APLEX Technology Inc., a global industrial computer products solutions provider, is excited to announce our new in-vehicle panel PC–APC-3103I and APC-3103M. APC-3103 series is a 10.1" TFT-LCD true flat design panel PC which is designed for in-vehicle applications and is powered by NXP i.MX8M Quad Plus Processor.
Excellent features of the APC-3103 rugged in-vehicle panel PC
APC-3103 is suitable for industries that require heavy machineries or working in harsh environments. For example, mining industry, cultivating machine, engineer vehicles and warehouse forklift.
In such applications, there might encounter different situations, such as in/outdoor, bright sunlight, rain, snow or even rough and bumpy road. Therefore, APC-3103 series supports total IP66 dust & waterproof and meets MIL-STD-810H, the shock and vibration certification. It is constructed with ultra-thin engineering plastic which can remain rugged and lightweight at the same time.
Moreover, APC-3103 series equipped with optional sunlight readable solutions, including high brightness, AG/ AR coating and optical bonding. It also supports wide range power input DC9~60V with optional adjustable ACC delay on/off ignition function and wide operating temperature range from -20~70°C.

Flexible I/O configuration and diverse mounting solution for convenient installation and deployment
APC-3103 series provides 1x CAN BUS, 1x COM, 1x LAN, 1x USB2.0 on the rear side and 1x USB2.0, 1x SIM and 1x SD slot on the slide side with waterproof cover. To prevent water from ingressing, M12 and ISOBUS connectors are IP66 waterproof as well. APC-3103I is equipped with ISOBUS and APC-3103M is equipped with M12 connectors. ISOBUS is an international communication standard protocol for vehicles and agriculture machines. By this protocol, the APC-3103 and application software can communicate and control the vehicle and other devices properly.

Nevertheless, this series also features with optional expansion slots such as miniPCIe for LTE, WI-FI, BT and GPS module, moreover, 5MP camera and RFID module for optional as well. With these features, APC-3103 has the ability of real-time data transmission, monitoring, detecting the danger, managing the track assets and more. Besides, it supports VESA mount and RAM mount to fit in various type of vehicles and to avoid driver's side view from blocking.
According to all the advantages of APC-3103 series, it is perfectly suitable for total waterproof in-vehicle computing solution. It is rugged and durable which can provide high safety and high efficiency working environments for industry such as logistic industry, warehouse management, heavy machineries, smart agriculture.
Products Guide: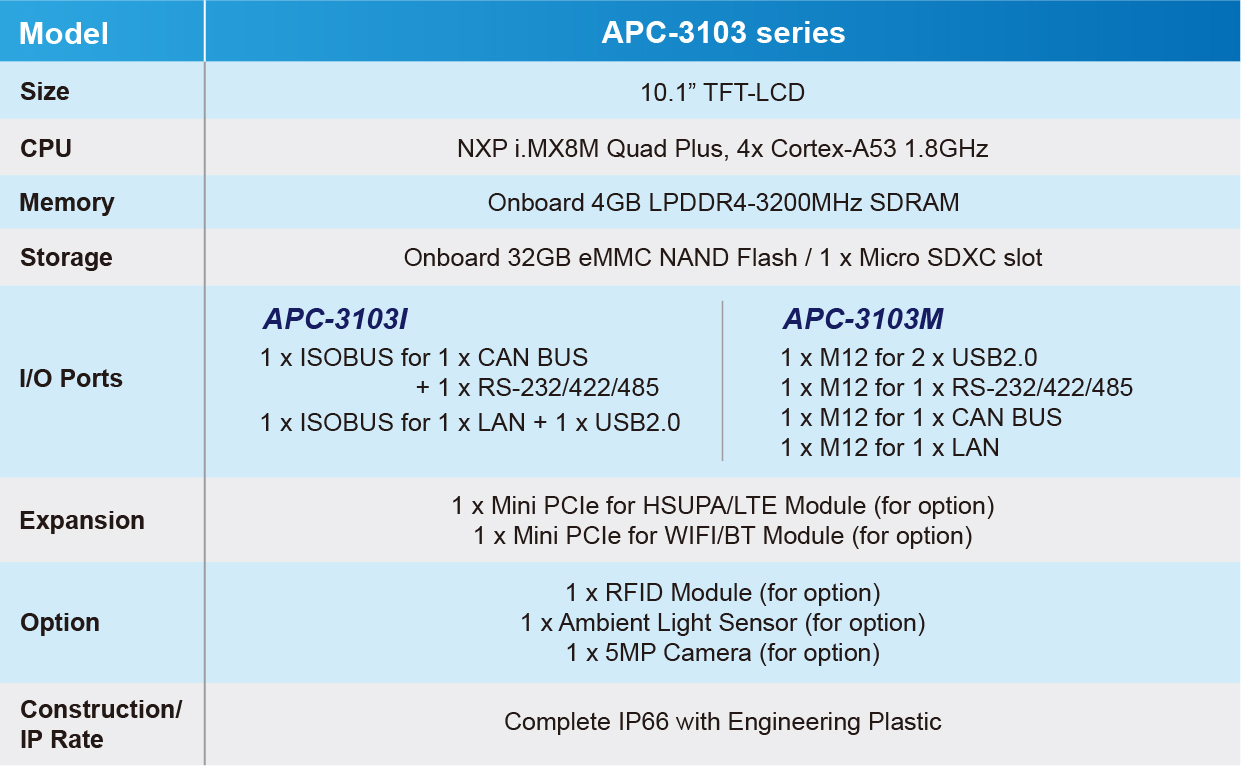 Products Video:
For further product information, please contact our sales team: sales@aplex.com
About APLEX
APLEX Technology Inc. is one of the leading brands in industrial computer products. The company is dedicated to satisfying customer's needs by offering comprehensive solutions and applications, including industrial panel PCs, Human-Machine Interfaces (HMI), industrial displays, and Embedded Box PCs. In addition to a full line of standard products, APLEX also offers customized or OEM/ODM project services. Applications range from factory automation, transportation, retail, hospitality, environmental monitoring, warehousing, medical, to health care. APLEX is publicly traded on TPEX TAIPEI Exchange (Code: 6570).More information is available at www.aplex.com and on LinkedIn,YouTube

Media Contact
Worldwide Office Contact: sales@aplex.com+886-2-82262881
US Office Contact: sales@aplextec.com+1 (669) 999 - 2500
Worldwide PR Contact: wennielo@aplex.com+886-2-82262881-2515