APLEX Provides Solutions that Maintain the Highest Standards of Factory Hygiene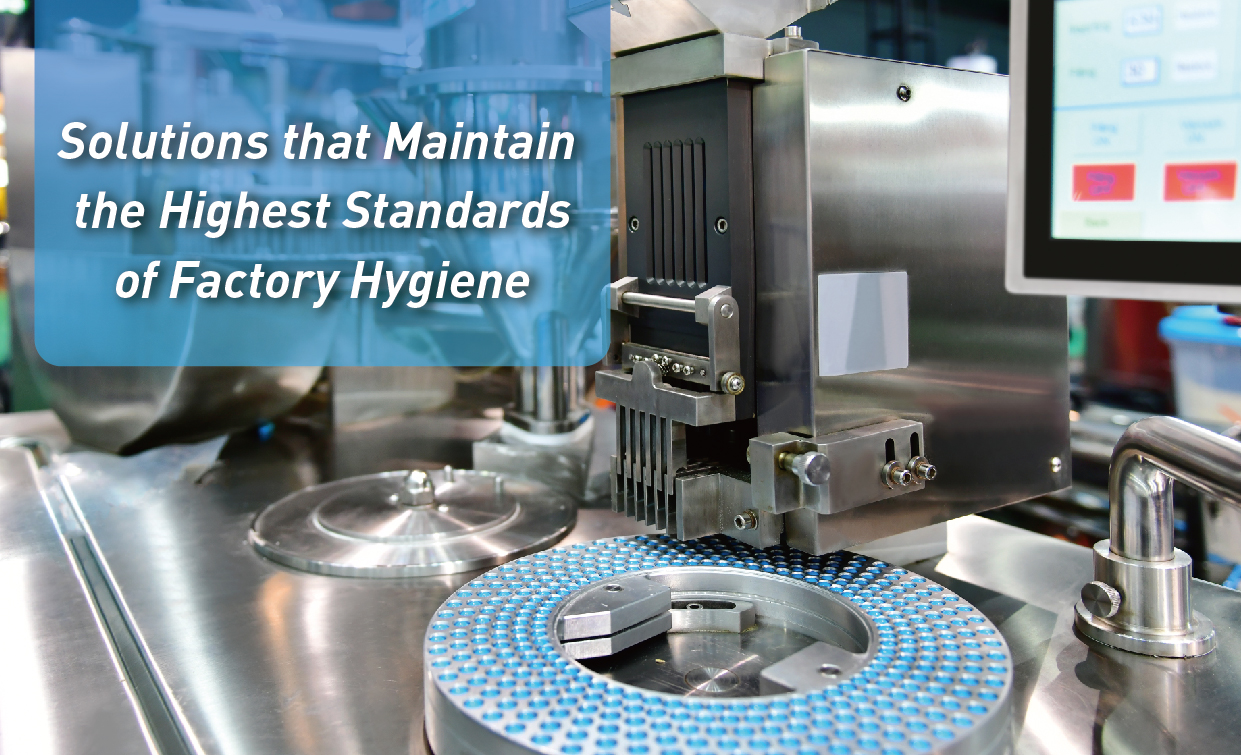 Taipei, Taiwan-June, 2021-APLEX Technology Inc., a global industrial computer products solutions provider, is pleased to highlight the reason why stainless steel panel PC and HMI are perfect for industrial factories. APLEX provides fully solutions with completely processor platforms and full range screen sizes from 7" to 32" of panel PC, HMI and display to fulfill wide range application fields.
Advantages of stainless steel construction
Stainless steel is a well-known material that has lots of advantages and is strong enough to withstand harsh environment and requirements. With 100 % recyclable and environmentally-friendly construction, it is rugged and durable to be able to resist temperature wide-range variation. Besides, due to its hygienic properties, anti-corrosion, germ-resistance, anti-oxidation and easy cleaning features, it can reach the sanitation standard of being applied in pharmaceutical industry, health care industry, biotechnology industry, beverage and food industry.

In industries which put hygiene at their upmost priority, cleaning is definitely a must. APLEX ViTAM series stainless steel panel PC and FABS series HMI feature IP69K, which is the high level of waterproof. It can prevent dust ingress and is able to resist extensive wash downs with 100 bars at 80 degree water jet. Our stainless steel panel PC and HMI can withstand the harsh environment due to pros such as waterproof, dustproof, wide operating temperature range and corrosion resistance that stainless steel construction with waterproof design has.
APLEX's industrial stainless steel solution
APLEX provides stainless steel solutions by ViTAM series includes panel PC and display while Fabs series includes HMI and display. Both series are basically designed for pharmaceutical, food and beverage industry. ViTAM and Fabs series features all-round IP66/IP69K to ensure factory hygiene standard by being able to resist intensive thorough cleaning. In addition, FABS series equipped with optimized frame design front bezel which is suitable for integrating into the cabin to fit the hygiene requirements.
ViTAM and Fabs series can bring your factory into the era of IIoT and Industry 4.0 by satisfying factory's strict requirements. You can save your time and cost by their high performance as well as enhance the efficiency of maintaining the sanitation.
Products Guide: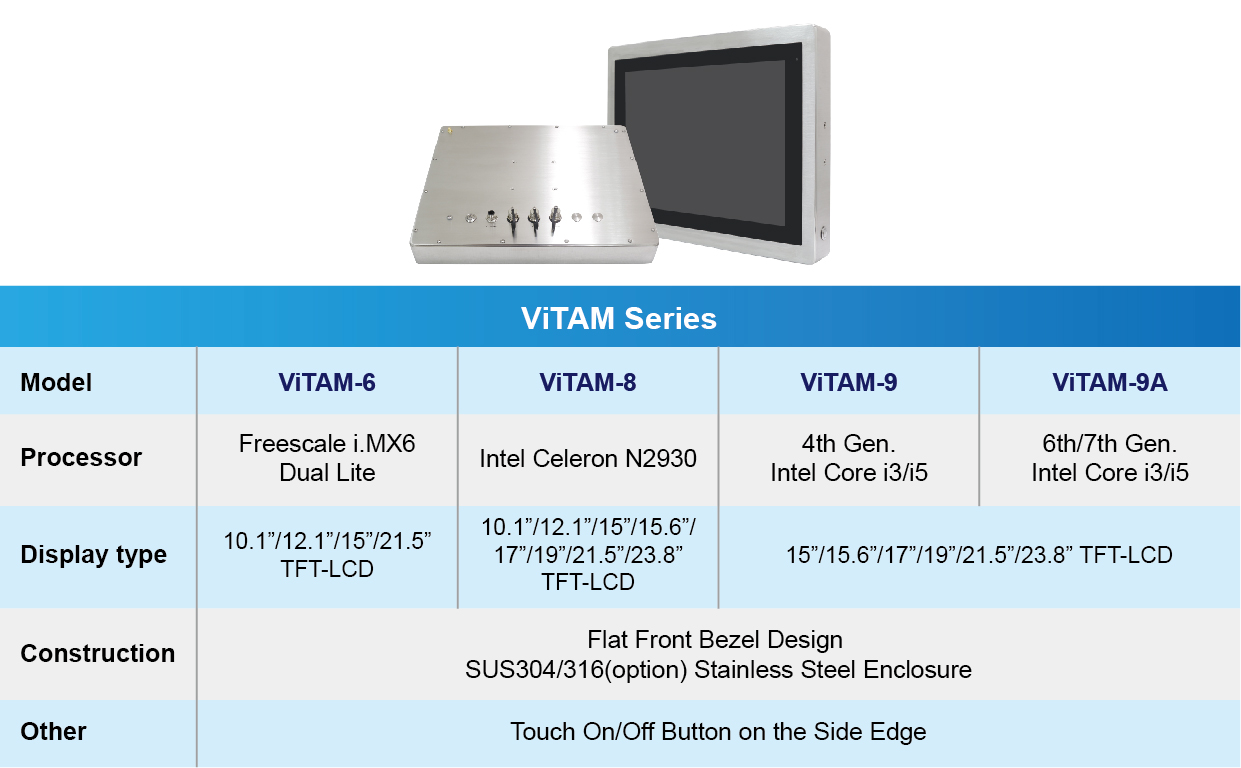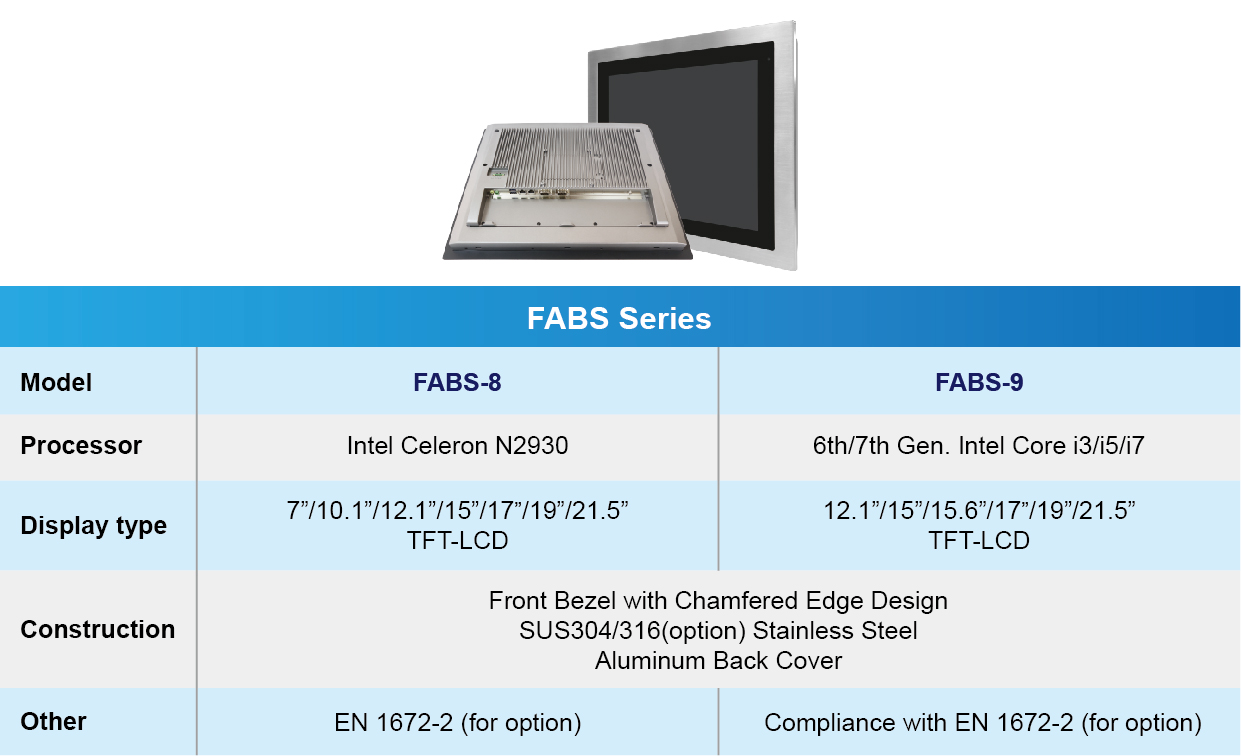 For further product information, please contact our sales team: sales@aplex.com
About APLEX
APLEX Technology Inc. is one of the leading brands in industrial computer products. The company is dedicated to satisfying customer's needs by offering comprehensive solutions and applications, including industrial panel PCs, Human-Machine Interfaces (HMI), industrial displays, and Embedded Box PCs. In addition to a full line of standard products, APLEX also offers customized or OEM/ODM project services. Applications range from factory automation, transportation, retail, hospitality, environmental monitoring, warehousing, medical, to health care. APLEX is publicly traded on TPEX TAIPEI Exchange (Code: 6570).More information is available at www.aplex.com and on LinkedIn,YouTube

Media Contact
Worldwide Office Contact: sales@aplex.com+886-2-82262881
US Office Contact: sales@aplextec.com+1 (669) 999 - 2500
Worldwide PR Contact: wennielo@aplex.com+886-2-82262881-2515