The Ultra-low Power ARMPAC Series Offers Cost-effective Performance
Taipei, Taiwan-July, 2020-APLEX Technology Inc., a global industrial computer products solutions provider, is pleasant to introduce our ARM based HMI ARMPAC-6xx series.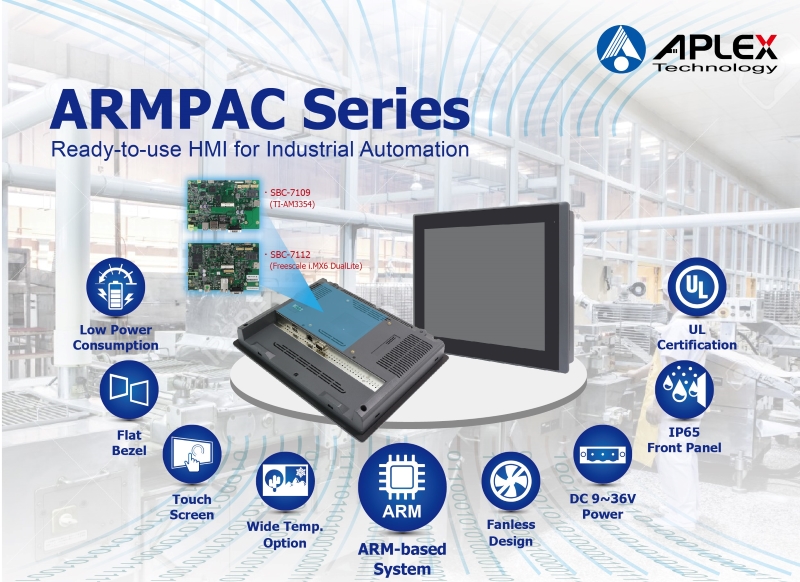 ARMPAC-6xx series is powered by Freescale i.MX6 Dual Lite ARM Cortex A9 processors with system memory of 1GB DDR3 SDRAM. It features rugged fanless design with wide temperature option, plastic chassis (available with 7"/8"/10.1"/12.1") and aluminum die-casting chassis (available with 15"/15.6"/21.5"), and IP65 (IP66 available with 15"/15.6"/21.5") flat front bezel. It supports various display size from 7"/8"/10.1"/12.1"/15"/15.6"/21.5" with 7H anti-scratch screen and PCT/RT touch screen option available. VESA mounting is available for device mounting option.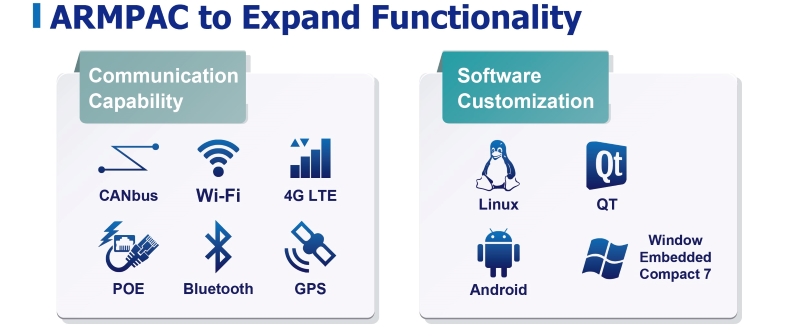 Ultra-low Power HMI Helps with Power Management
ARMPAC-6xx series offers low power and highly efficient performance to provide excellent cost-effectiveness and optimal performance with its ARM based CPU. It saves energy to minimize the energy costs and is beneficial for power management due to its low power consumption. It supports Android and Linux operating system for system integrator to deploy a wide range of industrial applications. SIM card slot and mini-PCIe slot are available for IoT communication to provide connectivity for data transmission.
ARMPAC-6xx series is stable, reliable, and cost-effective HMI with optimized performance that provides the ideal solution for IoT implementation and expansion. It is able to satisfy customers' requirements and help their business to step into the world of IoT.
For more product information, please contact our sales team: sales@aplex.com
ARMPAC-6xx Key features
Freescale i.MX6 Dual Lite, ARM Cortex A9 processor
Ultra-low power and high cost-effectiveness
Display size from 7"/8"/10.1"/12.1"/15"/15.6"/21.5"
Touch screen option PCT/RT available
Plastic chassis
Mini-PCIe and SIM card slot supports
Supports Android and Linux OS
About APLEX
APLEX Technology Inc. is one of the leading brands in industrial computer products. The company is dedicated to satisfying customer's needs by offering comprehensive solutions and applications, including industrial panel PCs, Human-Machine Interfaces (HMI), industrial displays, and Embedded Box PCs. In addition to a full line of standard products, APLEX also offers customized or OEM/ODM project services. Applications range from factory automation, transportation, retail, hospitality, environmental monitoring, warehousing, medical, to health care. APLEX is publicly traded on TPEX TAIPEI Exchange (Code: 6570).More information is available at www.aplex.com and on LinkedIn, YouTube
Media Contact
Worldwide Office Contact: sales@aplex.com +886-2-82262881
US Office Contact: sales@aplextec.com +1 (669) 999-2500
Worldwide PR Contact: davidho@aplex.com +886-2-8226-2881-2515