ARCHMI-8XXA series- Advanced Industrial HMI Solution for IIoT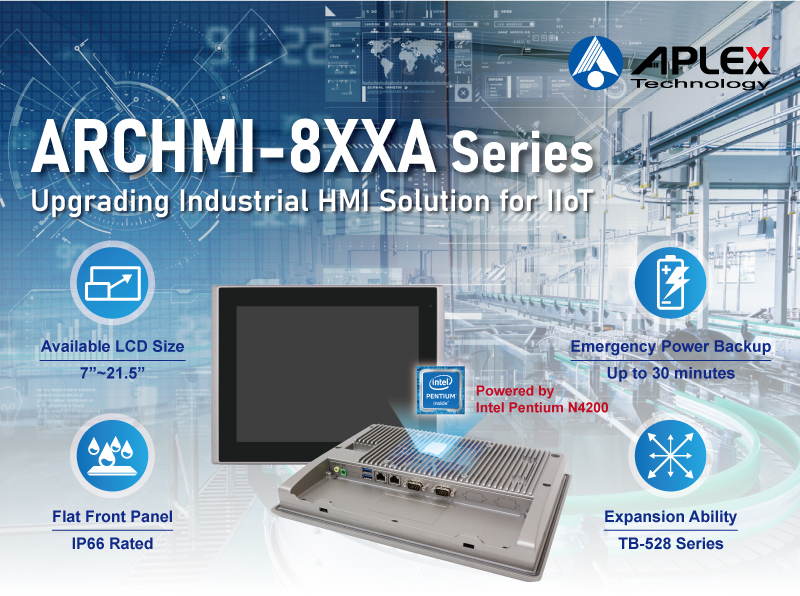 Taipei, Taiwan-April, 2020-APLEX Technology Inc., a global industrial computer products solutions provider, is going to launch the advanced industrial compact size human machine interface (HMI) – ARCHMI-8A series.

ARCHMI-8A series is powered by Intel Apollo Lake Pentium N4200/Celeron N3500 (optional) processor. Apollo Lake platform has better performance and power consumption than previous platform. It comes in various sizes (7"/8"/10.1"/12"/15"/15.6"/17"/18.5"/19"/21.5"). It supports Projected Capacitive touch/ Resistive touch that provides multi-touch solution with IP66 true flat front panel display design. ARCHMI-8A series' features rugged and fanless design along with aluminum die-casting chassis with great heat dissipation and protection against impact. It also has easy accessible storage design for hard drive swapping.
ARCHMI-8A series is capable of providing engineers/factory managers visibility of the factory automation equipment with real-time response and data accessibility. It is able to satisfy your factory automation applications such as simple production task, real-time monitoring, intelligent automation control, data processing and H2M/HMI to enable Industry 4.0 in your factory.

Enhance production efficiency with various IIoT communication abilities
Data transparency are especially crucial for production manager to be able to monitor and take actions in order to keep equippments functional and stable. ARCHMI-8A series provides a wide range of communication options including 3G/4G LTE/Wi-Fi/BT/GPS/RFID/NFC/PoE to have extraordinary IIoT connection.

Expansibility enables flexibility in industrial applications
ARCHMI-8A series gives the engineers ability to quickly control different kinds of automation equipment and simplifies operation procedures in a variety of industrial applications by easily monitoring the errors in the process and stabilizing operations. It offers optional I/O board, TB-528 series, for extension modules including Mini-PCIe, CAN bus, PoE, USB, COM and isolation I/O Module to provide flexible I/O configurations.
ARCHMI-8A series also features smart battery UPS module for option as a safety redundant solution. It offers emergency power back up to avoid data loss, protect equipments, and continue operations. The amount of flexibility and expansibility is to offer various control schemes for utilization of industrial applications.

To have better efficiency and quality, more industries have needs to upgrade their production to Industry 4.0 and link to IIoT. Therefore, APLEX technology offers complete HMI solution with its outstanding
computing ability and rugged design. ARCHMI-8A series will work in your favor with its rich expansion I/O options, variety of communications, and its integration of data collecting and computing. It will be able to
suit your factory automation requirements and help your business to step into the era of IIoT
For more product information, please contact our sales team: sales@aplex.com

ARCHMI-8A Series Key Features
Intel Pentium N4200 processor/ Celeron N3500 (optional)
7"/8"/10.1"/12.1"/15"/15.6"/17"/19"/21.5" TFT-LCD
IP66 true flat front panel display
Fanless design with aluminum die-casting chassis
Easily accessible storage design
Smart battery UPS module (optional)
Sunlight readable solution (optional)
Expansion I/O board TB-528 series (Mini-PCIe/CAN bus/PoE/USB/COM) (optional)
Communications (3G/4G LTE/Wi-Fi/BT/GPS/RFID/NFC/PoE) (optional)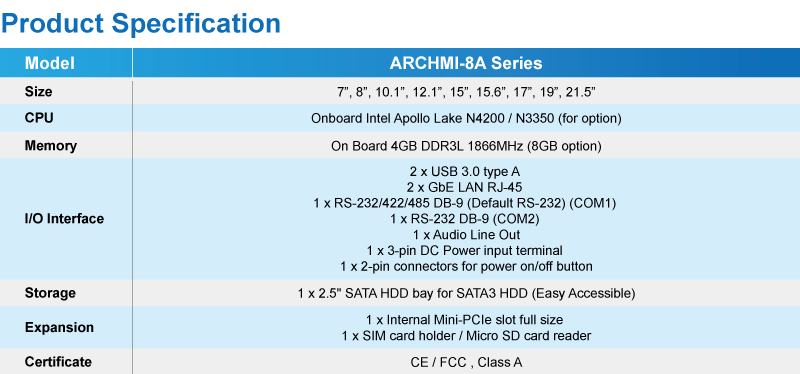 About APLEX
APLEX Technology Inc. is one of the leading brands in industrial computer products. The company is dedicated to satisfying customer's needs by offering comprehensive solutions and applications, including industrial panel PCs, Human-Machine Interfaces (HMI), industrial displays, and Embedded Box PCs. In addition to a full line of standard products, APLEX also offers customized or OEM/ODM project services. Applications range from factory automation, transportation, retail, hospitality, environmental monitoring, warehousing, medical, to health care. APLEX is publicly traded on TPEX TAIPEI Exchange (Code: 6570).More information is available at www.aplex.com and on LinkedIn, YouTube

Media Contact
Worldwide Office Contact: sales@aplex.com +886-2-82262881
US Office Contact: sales@aplextec.com +1 (669) 999 - 2500
Worldwide PR Contact: davidho@aplex.com +886-2-82262881-2515

All brands and product names are trademarks of their respective owners.