Opportunity to implement Intelligence in Smart Manufacturing with our AVS
During the difficult hours, implementing Machine Vision and AI can keep your production process overcomes the impact that this pandemic has brought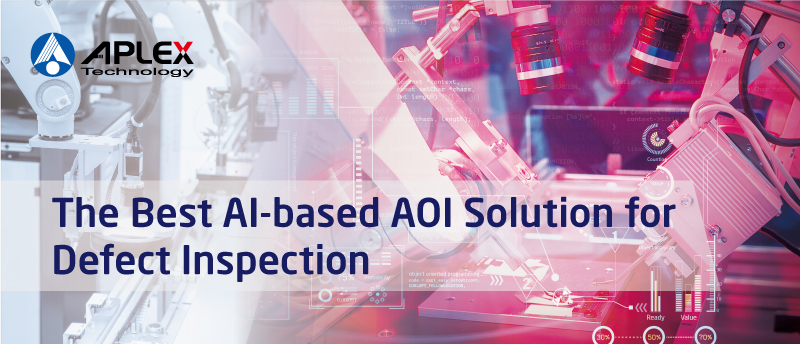 Taipei, Taiwan-April , 2020- APLEX Technology Inc., a global Industrial Computer leader, would like to introduce our AVS Series to the industry, which is a series of systems designed specifically for the support of Machine Vision application.

Machine Vision with AI can offer great productivity improvement as it helps in precision and quality control within the automation in manufacturing. AVS series are capable in providence of stable AI platform for Cost-effective Industry 4.0 solution.
AI's Machine Learning capability allows the application to adapt the tasks fairly quick with excellent precision. Machine Vision with AI implementation makes the applications, such as the Automation Control, 2D/3D Measurement, and Surface Inspection, can be with more efficiency, precision, and less labor cost. During this critical time, Human Resource Management has become a huge issue to all manufacturers; now is the best timing to upgrade to Smart Manufacturing with the implementation of AI-based Machine Vision.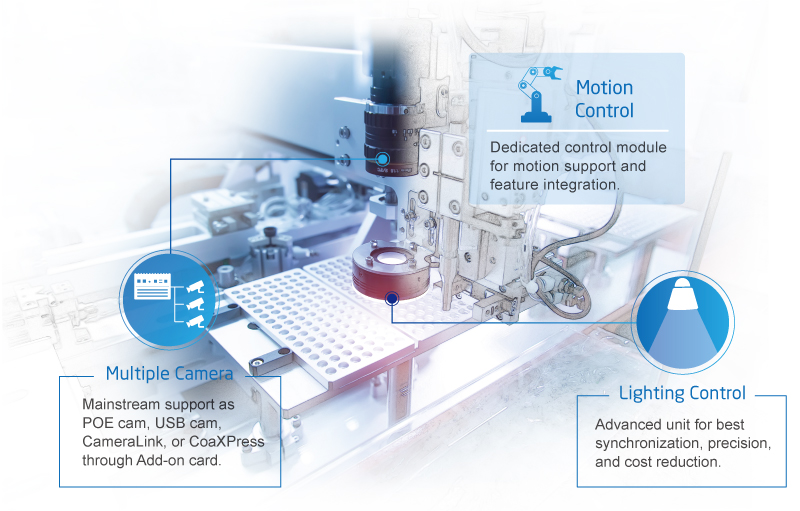 Line-up of AVS Series

From the Entry to the Advanced level, APLEX provides complete Machine Vision solutions.
AVS-3 Series is for Entry-level Machine Vision segment. Powered by Intel Celeron J1900 for just enough performance, it has Lighting Control integrated that allows for more cost saving in basic Machine Vision Inspection application. Its compact size and fan-less design provide space saving and reliability.

AVS-5/6 Series offer more High-end level Machine Vision performance. AVS-5 Series is powered by Intel 7th Gen. Core processor, and AVS-6 Series can support up to Intel XEON processor. Both rugged designs provide flexible installation. Their expansion slots with Add-on card support provide great flexibility for different kinds of industrial applications.

Fully utilizes the power of AI for Automation Control


AVS-5/6 Series with high computing, huge memory, and big storage are able to support for AI/ML-based applications. They have PCIe x16 slot for Add-on GPU graphic card, allow heavy duty tasks to meet with most industrial applications' demands, offering great Image Processing performance and reliability in applications such as AOI Fault Detection. They also have more PCIe expansion slots to support multiple camera expansion (PoE/GigE/USB3.0) which is needed in many kinds of Machine Vision applications.
Nowadays, Machine Vision and AI are essentials to manufactures. With the extreme computing power of AVS Series, the best platform for AI, manufacturers with our AVS can get to the new level of production efficiency and productivity, as Machine Vision with AI to be an integral part of Industry 4.0.

AVS 3/5/6 series key features
Intel Celeron J1900/ 6th/7th Gen. Core, and Xeon Processors
Expansion slots with PCIe-16 support
GPU cards and LAN/PoE/USB3.0 I/O cards support
Rugged and Fan-less design
Wide range DC 9~36V power input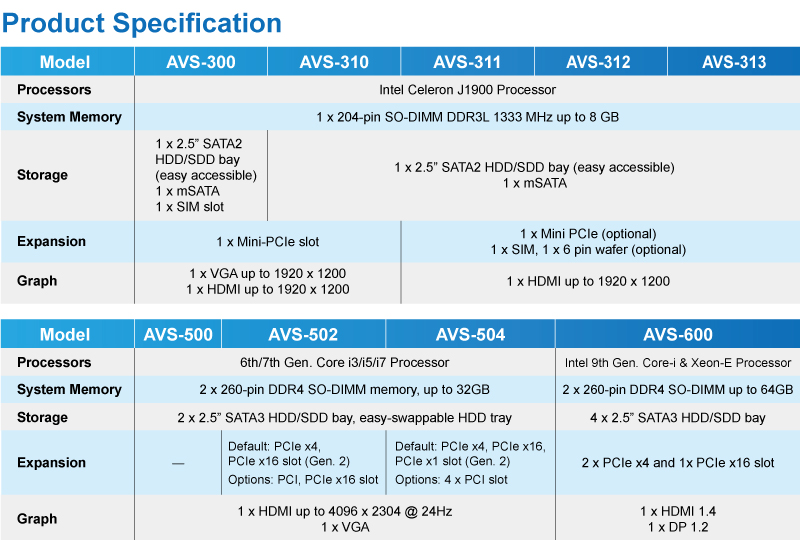 About APLEX
APLEX Technology Inc. is one of the leading brands in industrial computer products. The company is dedicated to satisfying customer's needs by offering comprehensive solutions and applications, including industrial panel PCs, Human-Machine Interfaces (HMI), industrial displays, and Embedded Box PCs. In addition to a full line of standard products, APLEX also offers customized or OEM/ODM project services. Applications range from factory automation, transportation, retail, hospitality, environmental monitoring, warehousing, medical, to health care. APLEX is publicly traded on TPEX TAIPEI Exchange (Code: 6570).More information is available at www.aplex.com and on LinkedIn, YouTube

Media Contact
Worldwide Office Contact: sales@aplex.com +886-2-82262881
US Office Contact: sales@aplextec.com +1 (669) 999 - 2500
Worldwide PR Contact: davidho@aplex.com +886-2-82262881-2515

All brands and product names are trademarks of their respective owners.