Ensure Hygiene Safety to Prevent Contamination by ViTAM Stainless Steel Panel PC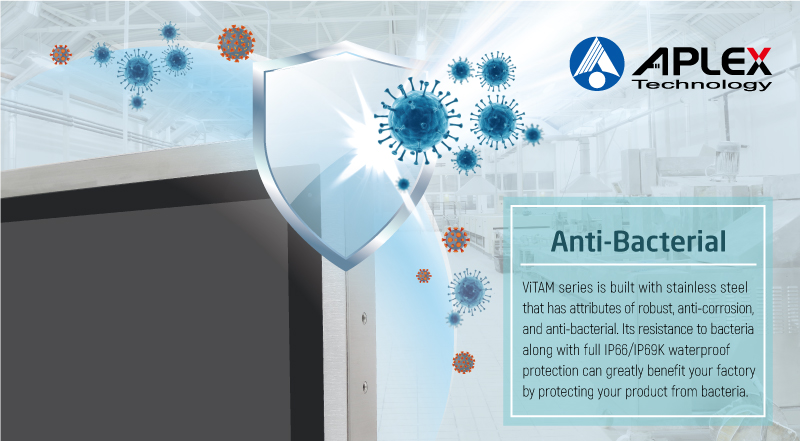 Taipei, Taiwan - March, 2020 – APLEX Technology Inc., a global industrial computer product solutions provider, is pleased to introduce ViTAM series, which is IP66/IP69K stainless steel panel PC and display powered by Intel Celeron, Core i platforms and ARM based Freescale i.MX processor, which comes with various display size ranging from 10.1"to 23.8" along with PCT/Resistive touch screen and AR/AG/Anti-UV glass options. ViTAM series is very cleanable and durable against any intensive cleaning methods with stainless steel chassis and total waterproof design while keeping good hygienic standard, making it very suitable in food, chemical, and pharmaceutical industry.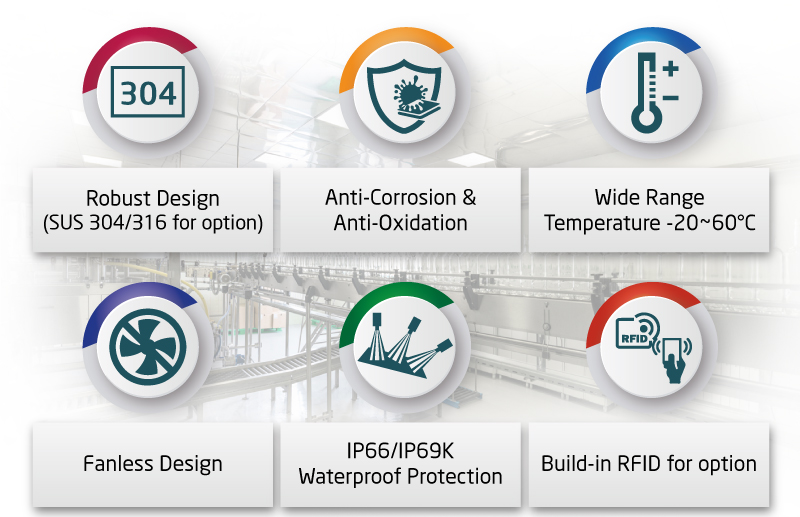 All-Around Rugged Stainless Steel Solution to Improve Environment Hygiene
Hygiene issues can greatly influence product's quality and safety with contamination in food factory. The IP66/IP69K certified ViTAM series built with SUS304 stainless steel (SUS316 as optional upgrade) is capable of withstanding high pressure and temperature water jet with its full waterproof protection design in order to be easy to clean, keep stain away, and prevent from contaminating products. Additionally, it also comes with M12 connectors for better waterproof protection and reliable connectivity. ViTAM makes cleaning much easier with total IP66/69K design, making it a great fit for harsh environments.

Durable Against Wide Range of Temperature (-20°C to 60°C)
ViTAM series is capable of operating under a wide range of temperature from -20°C to 60°C. It can withstand critical environments with severe temperature variance. It is also fanless with excellent thermal design that can greatly improve reliability and performance in harsh industrial configuration. ViTAM's outstanding heat dissipation ability and durability to a wide range of temperature improves production efficiency in various extreme environmental conditions.

APLEX Technology provides complete stainless steel panel pc solution with IP66/IP69K rating of waterproof protection and rugged stainless steel design that is capable of withstanding a variety of environmental challenges in industrial deployment. ViTAM series will be able to work under various industrial applications with its excellent performance. It will bring your business into the smart AIoT era.
For more product information, please contact our sales team: sales@aplex.com

ViTAM Series Key Features
Celeron N2930, 4th/6th/7th Gen. Core i, Freescale iMX6
10.1"/12.1"/15"/15.6"/17"/19"/21.5"/ 23.8"TFT-LCD
SUS304 Stainless Steel Enclosure (SUS316 for Option)
IP66/IP69K Rated with M12 Connectors
Wide operating temperature -20°C to 60°C
Support Yoke Mount and VESA Mount
PCT/Resistive touch screen and AR/AG/Anti-UV glass options
RFID built-in for option
Touch on/off buttons on the side edge for hygienic cleaning
About APLEX
APLEX Technology Inc. is one of the leading brands in industrial computer products. The company is dedicated to satisfying customer's needs by offering comprehensive solutions and applications, including industrial panel PCs, Human-Machine Interfaces (HMI), industrial displays, and Embedded Box PCs. In addition to a full line of standard products, APLEX also offers customized or OEM/ODM project services. Applications range from factory automation, transportation, retail, hospitality, environmental monitoring, warehousing, medical, to health care. APLEX is publicly traded on TPEX TAIPEI Exchange (Code: 6570).More information is available at www.aplex.com and on LinkedIn, YouTube

Media Contact
Worldwide Office Contact: sales@aplex.com +886-2-82262881
US Office Contact: sales@aplextec.com +1 (669) 999 - 2500
Worldwide PR Contact: davidho@aplex.com +886-2-82262881-2515

All brands and product names are trademarks of their respective owners.